I spoke with Gavin this morning about the email I had received from his teacher last night.  I went over what I had learned about his actions, this past Friday and Gavin acknowledged that it was true. 
When he explained about his day on Friday, he left out all of the really interesting details. 
Did he actually lie to us? That's debatable because he had told us that he got frustrated and lost points as a result of that frustration. That was all true. 

However, his story very much made him look like a victim and I believed him.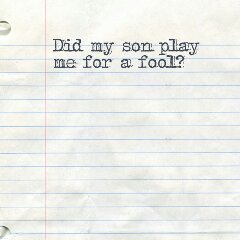 What were his intentions? Did he mean to mislead us or was his explanation true based on his perception of what happened?
This is why he can be so frustrating.  It's almost impossible to know what was going on in his head at the time.  He has more than enough going on to explain him being deceptive, along side his extended history of not being truthful. At the very same time, he has more than enough going on to lend credence to the fact that he simply misread the situation or forgot most of what happened. 
I don't know what to do at this point. 
I'm angry with myself because I let my guard down with Gavin and it appears that he played us yet again.  I feel like an idiot for believing him and not even questioning his story………
I don't enjoy any of this and I think we need to be aware of the fact that despite Gavin's decline, he's still very capable of playing us for fools. 
This site is managed almost exclusively from my Galaxy S4. Please forgive any typos as autocorrect HATES me. 😉
Follow @Lost_and_Tired

"Like" me on Facebook

Visit the My Autism Help Forums
To reach me via email, please Contact Me
Setup of an account with Bluehost and I get paid. If your looking for a host for your website or blog.
Click the image below and check out Bluehost. It's what I use.