In my previous post, I explained a bit about where I'm at as a writer/blogger.  This is the very first post on my journey to rekindle my passion for writing and sharing our story. 
I figured the best way to begin was to share how I'm feeling about my life and raising three boys on the Autism Spectrum.
For most of the day, I've been thinking about everything that's going on in our lives.  I've got three boys with Autism, one of which has very fragile health and is otherwise a medical mystery. My wife of a decade is chronically ill and is very limited in her current ability to function.

It's way more complicated than that but that's the jest of it.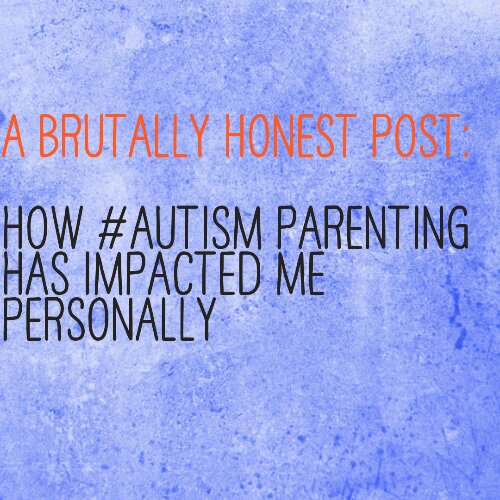 If I said that I was overwhelmed by everything, that wouldn't be very accurate.  You see, I'm so far beyond overwhelmed that if I turn around, I can't even see the line anymore. 
Absolutely everything is a battle and it's exhausting.
I can't even cook a meal without having to accommodate multiple needs and that translates into cooking several different meals, often more than once, just so everyone can eat.  I used to actually love cooking but now I loathe even thinking about it.
This is the first year that all the boys are in school at the same time. While I'm sad because they're growing up, this was finally a time that Lizze and I would be able to recoup and get back on our feet. 
I remember talking to our family psychologist and sharing how much we were going to be able to get done now that the boys are in school during the day. I had all these plans and expectations of what life with no kids during the day would be like. 
At the same time, I also remember her cautioning me not to set my expectations too high because Lizze and I have been through so much over the last decade that this was not going to be an easy fix. 
As much as I hate to admit it, she was absolutely right. 
The boys have been in school for going on two months now and I still can't find my footing.  I don't have a routine outside of taking the boys to and from school each day. 
It's like I'm so completely drained of anything that even remotely resembles energy, that I just can't seem to get anything done.  This is evidenced by the mounting piles of laundry and dirty dishes that are threatening mutiny.
Supposedly, you can never make up for lost sleep. I'm so sleep deprived that even though I know that I can't get caught up on missed sleep, that's not stopping my body from diligently trying anyway.
I'm also prone to these moments of clarity, where I can step back and view the big picture. It's these moments of clarity that remind me of just how much I have to do and how little progress I've made.  These little mini epiphanies only serve to reinforce the feelings of failure and like the final nail in my coffin, guilt sets in.
Most people just have no idea what living like this does to a person, especially over an extended period of time. 
I love my kids.  I would die for them in a heartbeat but at the same time, I swear to God that raising them is going to kill me.  Does that make sense? Anyone understand what I mean?
When raising a special needs child, you can be pulled in a million different directions, all at the same time.  It's nearly impossible to live in the present because you are constantly worried about the future and rightfully so.  When you are an Autism parent, the future is pretty goddamn scary. 
In many cases, you could spend all day everyday, simply trying to meet the very basic, physical and emotional needs of your child. In my experience, there's almost no time for anything else.
Unfortunately, the world doesn't recognize this added responsibility and still expects the exact same from you, as it does anyone else.  Whether that's fair or not is debatable, but it certainly can make the challenging almost impossible.  I know that at least some of you reading this can relate. 
Imagine all of this but multiply it by three.  Then add in a chronically ill parent and you will find yourself standing in my shoes. 
Please don't think I'm complaining about my life because I'm not.  This is about providing insight and not about sympathy.  I love my family and have done and will continue to do, everything I possibly can to improve their lives and meet their needs.
Having said that, it would be pretty naive to believe that all of this doesn't eventually take its toll on a person.
This site is managed almost exclusively from my Samsung Galaxy Note 3. Please forgive any typos as auto-correct HATES me. 😉
Follow @Lost_and_Tired

"Like" me on Facebook

Visit the My Autism Help Forums
To reach me via email, please Contact Me