We discovered a long time ago how positively our kids respond to having animals around.  Today, I thought I would introduce Emmett's animal companions.  Many of you already know them but in case you don't……..
This is Bella and Blue. 
Bella is a 2 year old, female Boxer.  We got her when she was very young and really tiny.  Bella is one of the best things to happen to Emmett because she's brought him out of his shell. When he picked her out, they immediately bonded and he became willing to do things, he wouldn't have otherwise because Bella needed him. 

Blue is his kitten that we rescued last year because we were getting more mice in the house.  Our house is really old and during the winter, we tend to get more mice.  Blue is pretty unique because he was basically born feral but took quite well to Emmett. 
When Emmett is upset or having a meltdown, Blue and Bella will come running over to him and try to provide him with comfort. 
In truth, this can sometimes work better than anything Lizze or I could do. 
The other really cool thing is that Blue and Bella are really good friends as well.  They play together and even snuggle together for naps during the day. 
In the picture below, Bella and Blue are both tuckered out from playing with Bella's toy.  They'll probably sleep until Emmett get home from school in a little while. 
When I look back on everything that has gone on over the past two years, I'm very comfortable saying that much of Emmett's progress has been due to his working with his animal friends.  Our pets become members of our family and while it can be challenging, seeing the positive impact they have on our three boys with Autism, makes it entirely worth it.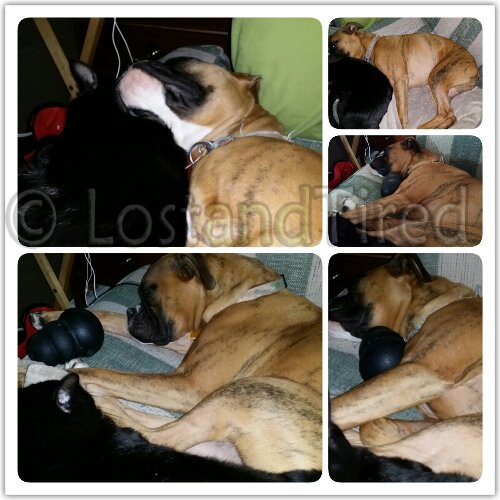 This site is managed almost exclusively from my Samsung Galaxy Note 3. Please forgive any typos as auto-correct HATES me. 😉
Follow @Lost_and_Tired

"Like" me on Facebook

Visit the My Autism Help Forums
To reach me via email, please Contact Me