The My Autism Help Forums are better than ever
I've spent some time over the last week, pouring over the My Autism Help Forums.  My goal was simple.  I wanted to narrow my focus and stop trying to be everything for everyone. I decided to focus on what I do best and that's bring people together, create dialog and help people to realize that they aren't alone.
With that in mind, I restructured the forums and made them much more user friendly.
The forums run on the vBulletin platform, which is the industry gold standard for online forums.  You have a tremendous amount of freedom to express yourself and Facebook is integrated as well.

I've updated the My Autism Help app as well.  This is a premium Android app that allows the user to completely use the forums from the comfort and convenience of their Android mobile device.  It should also be said that this app is made possible because Tapatalk has generously donated it.  This app is absolutely top of the line and it's my gift to you.
Here's a screenshot of the app running on my phone….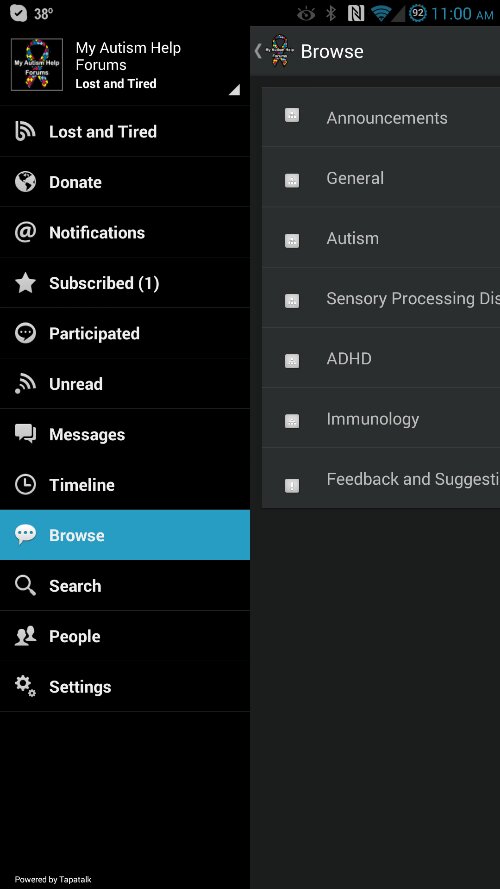 Why you need the My Autism Help Forums
The My Autism Help Forums are unique in the sense that they provide an environment for people to come together and connect on the topic of Autism.  We have parents, grandparents, friends and families of kids with Autism, Adult Autistics and other people that just want to learn and become more Autism Awareness.
All of this takes place in a bully free, judgement free environment.
You are able to speak your mind, ask or answer questions, seek advice and share your personal experience, without having to fear what others will say or do.
I have a zero tolerance for bullying but have never had an issue in the forums.
Facebook has gotten out of hand and people are berated and bullied for sharing their thoughts and opinions anymore.  I believe that we don't have to agree to get along.  Many people don't feel safe posting to Facebook because of this.  While it's a convenient alternative, it's not always the ideal environment.
The mobile app allows you to post a question while on the go.
How often are you sitting in front of your computer when a situation arises that you need to talk about.  With the My Autism Help app, it's like you have a support group of people that totally understand, everywhere you go.
Do you remember what it was like when you first learned your child had Autism? I do…  I remember feeling lost and alone.  I didn't know a single person with an Autistic child and had no one to relate to.
My goal is to change that.  No one should feel alone or isolated.  Just being able to connect with others that have been where you are now and can help you through the tough times, can make all the difference in the world.
Something else that's really cool is that we will have fun topics, that allow you to get to know everyone.  There are places in the General section that are great for just talking about whatever you want, Autism related or not.
Please, give the My Autism Help Forums a try.  It's free. The app is free and you have nothing to lose.  The forums are only as good as the people that visit them.  We need people like you.  🙂
Sign up and share.  Our moto is Join, Connect, Share and Learn.  I hope to see you all there.
This site is managed almost exclusively from my Samsung Galaxy Note 3. Please forgive any typos as auto-correct HATES me. 😉
Follow @Lost_and_Tired

"Like" me on Facebook

Visit the My Autism Help Forums
To reach me via email, please Contact Me