For starters, there is a huge and largely inaccurate stereotype or stigma attached to people or families on food stamps.  Not everyone that get help in this form, is lazy or mooching off the government.
Some families, like mine for example, are trying to raise a special needs child or have major health problems. 
While it's true that the system is abused by some, please don't lump us all together.  There are millions of people with legitimate need for help and assistance, not judgement.  If you are unable to engage in tactful or respectful dialog, please refrain from leaving your silliness in the comments.  🙂
SNAP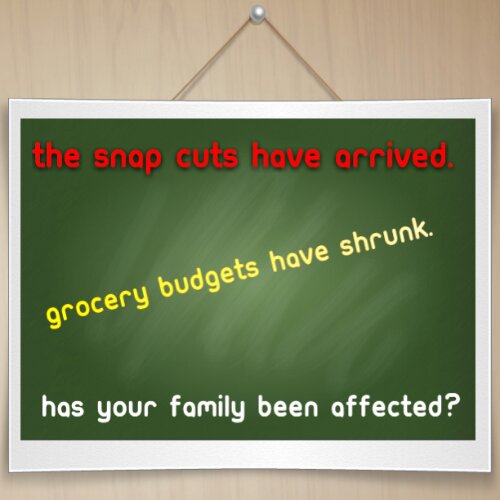 This will be out first grocery shopping trip on our reduced SNAP budget.  SNAP is the Supplemental Nutrition Assistance Program, in other words, food stamps. 
My family benefits from this program and while I would prefer to be self-sufficient, my family situation limits my ability to do so. There are millions of families and individuals on this program and while there are people that horribly abuse the program, a great many of us rely on SNAP to feed our families for various legitimate reasons. 
The problem that many of us are facing is that as of November 1, 2013, there have been major cuts and the benefits have been slashed. 
I think when I figured this out on our end, it was something like a 17% loss in monthly benefits.  As the health of 2 members of my family gets worse,  our financial struggle has worsened as well.
Having said that, I'm not someone that believes it's the government's responsibility to provide for my family.  However, we have legitimate health issues that limit my ability to work outside of the home and so I'm grateful for the help.
My concern is the same as many other people's going into November.  How are we going to survive on even less, than we had before? The simple answer for me is, I don't know.
What will likely happen is that my wife and I will consume less, in order to ensure the kids get what they need. 
To be completely honest, it would be tough feeding my kids, even if we had a $1,000 a month budget.  Kids with Autism and various sensory needs can be notoriously difficult to feed and ensure proper diet.  I struggle with that personally, as my kids are very sensory sensitive and have life threatening food allergies. 
I'm truly worried because our situation is complicated enough as it is. Now we have to try and figure out how to make a much smaller budget stretch just as far. 
Again, I don't mean to come across as ungrateful. This is just the unpleasant reality that I have found myself facing. 
I'm curious to know how many of you are going to be impacted as well?
This site is managed almost exclusively from my Samsung Galaxy Note 3. Please forgive any typos as auto-correct HATES me. 😉
Follow @Lost_and_Tired

"Like" me on Facebook

Visit the My Autism Help Forums
To reach me via email, please Contact Me