Gavin had a massively violent tantrum tonight.  We caught him lying to us and his teachers. Essentially, Gavin was exploiting a situation at school, in order to get out of doing his homework.
Basically, he would do some of his Math homework at home, tell us it was done and then go to school the next day, tell his teachers that he couldn't do it and that he needed help. 
This of course isn't true. 

What he was doing was manipulating everyone into essentially doing the work for him. They didn't actually do it for him but they held his hand and walked him through it.  This ensured that he got the right answers and wouldn't have to redo it.
If he had to redo any of the problems, it would cut into his obsessive recreational reading time.
I'm going to have to meet with his teachers and bring them up to speed. He's also got us really confused about something that's going on in class, causing him to lose points. He's playing the victim but nothing he has said makes a lick of sense.
Anyway, when we caught him this evening trying to pull one over on us, we dug around a bit and figured out what was going on. 
As a result, we informed him that he's his tablet and recreational reading privileges are suspended until further notice.  We need to get to the bottom of this and figure out what to do. His education has to come first and the lying has to stop. 
I don't think I've ever envisioned myself having to remove reading as a consequence. 
The moment he heard that he was losing those things until we get this figured out, he completely lost it.  He had the worst tantrum he's had since he moved back home, earlier this year. 
This was a tantrum and not a meltdown, because he was pissed off that we were holding him accountable for his having lied to us.  He didn't care that he had lied, only that he got caught.  
I really thought we had put most of this behind us and we were trusting him again.  This is totally a Reactive Attachment thing and now I'm left wondering what else we've missed. 
The tantrum was very, very violent and self-injurious.  He was actually hitting himself with a chair, punching himself in the face, smashing his head into his knees and biting himself.  If you're new to this blog and our story, you're gonna just have to accept that this was a tantrum, meant to manipulate us.  Gavin has some very, very serious mental health issues and his issues go much, much deeper than just Autism. 
I'll be totally honest with you here. I was absolutely caught off guard. 
I was beginning to trust Gavin again.  After everything he's done, it wasn't easy to do that. Now I feel like an idiot because when he told us his homework was done, I believed him.  Every time we'd check in with his teachers, they would tell us he's doing great. 
Gavin was playing on their willingness to help him.  It's really hard to believe what Gavin's capable of, especially if you have entered experienced it for the hand.  RAD kids can be quite gifted in the art of manipulation and deception. Gavin's the poster child for this.  It's difficult for us to get his teachers to understand that Gavin is capable of doing but we're gonna have to try. 
I fucking hate this.  I hate not being able to trust my son.
Looks like we haven't put this shit behind us after all and if there was any question as to whether or not he was still capable of this type of behavior, I say that question has been answered. 
Below is a picture of what Gavin did to his knee, with his teeth, through his pants. 
Elliott and Emmett were completely terrified by Gavin's actions tonight.  Lizze stayed upstairs with them, after we heard them crying. 
You have to understand how violent his tantrums are. He literally shook the entire house and there was no way to escape the screaming. Emmett also heard Gavin scream that Bella was a stupid dog and he was not happy to hear that.
As soon Gavin realized that we weren't budging off the punishment, he simply stopped, like nothing had ever happened. 
I wouldn't wish this on anyone.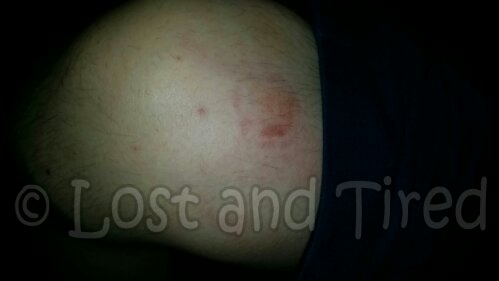 This site is managed almost exclusively from my Samsung Galaxy Note 3. Please forgive any typos as auto-correct HATES me. 😉
Follow @Lost_and_Tired

"Like" me on Facebook

Visit the My Autism Help Forums
To reach me via email, please Contact Me