I'm so worried about Elliott. He's not eating much of anything, He didn't eat his lunch again and he didn't eat dinner tonight again. I made three different things, there was something wrong with everything I made.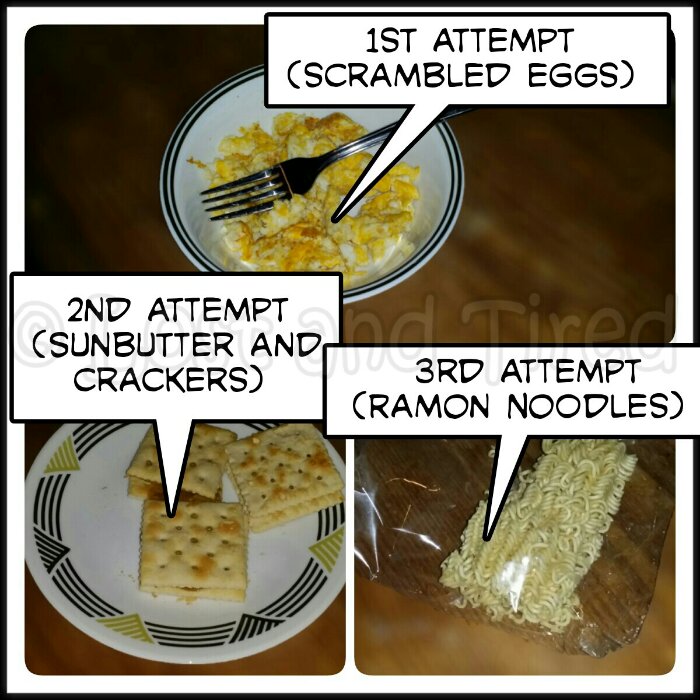 We had scrambled eggs for dinner tonight. Everyone but Elliott, thought they tasted just fine. I mean, their scrambled eggs and Elliott normally eats scrambled eggs.

However, tonight they tasted funny to him and he wouldn't eat them.
He asked if I would are him some Sunbutter (soy butter) and Saltine cracker sandwiches. I made him 4 sandwiches, thinking I would just make more if he needed them. As it turns out, he only ate one before deciding that they tasted funny as well.
Lastly, he asked for some dry Ramon Noodles. He always like dry Ramon Noodles and even though I feel like a horrible parent for letting him eat dry Ramon Noodles, I was happy just to get him eating something.
Unfortunately, the Ramon Noodles tasted rotten, according to Elliott and he just decided to not eat. 🙁
I tried, I really did. This has been something that has progressively gotten worse over time. It began when he was diagnosed with an allergy to tree nuts, almonds in particular.
Over the last couple of weeks, things have gotten worse and I don't know what's going on with him. We taken his ADHD medication into account because that can kill his appetite, but that hasn't really ever been much of a problem and this began before his medication was started.
This happens every single day and we've gone through our entire (recently reduced) grocery budget already this month because Elliott and Emmett's food proclivities. It's not their fault but we have gone through so much food, trying to get hem both to eat and it just never ends until we literally run out and that's about where we are now.
Elliott has always been a very picky eater and that stems for his many sensory processing related challenges. However, since the whole tree nut allergy came to light and his options were significantly reduced, it's been almost impossible to get him to eat, not to mention really expensive.
We've been avoiding getting him in to the pediatrician because I know how traumatizing that experience is for him and I know that it would likely require blood work.
We've been watching his weight and just trying to accommodate him in any way possible. He's even turning down McDonald's when it's offered.
He's very likely depressed but he's had a negative reaction to the type of medication he needs to be on for it, so our options are limited. He's in counseling at least once a week and that helps. He's doing amazing in school as well.
Dr. Pattie says that this could be all about control for him right now. He feels like, and for good reason, that his life is out of his control. The most basic control someone has over their own life, is eating. This isn't a healthy way of coping and we have to be careful that this doesn't evolve into some kind of eating disorder down the road.
There are so many things that have me worried in general right now. There isn't a single cell in my body that isn't worried about one of the kids or even Lizze for that matter.
This is such a winless situation because to help one person, I have to put another on the back burner. No matter what I do, someone pays a price.
If I simply prioritize by need, than just about everything would have to go to Gavin. If I prioritize you a combination of need and who would benefit the most, Gavin wouldn't make the cut because nothing we've ever done for Gavin has had any lasting impact on him.
It's pushing 2am right now and I'm writing this because I'm so stressed out over all of this stuff that I can't sleep.
It just never ends and I don't know what to do anymore. I'm feeling worried, helpless, demoralized, frustrated and overwhelmed tonight. 🙁
This site is managed almost exclusively from my Samsung Galaxy Note 3. Please forgive any typos as auto-correct HATES me. 😉
Follow @Lost_and_Tired

"Like" me on Facebook

Visit the My Autism Help Forums
To reach me via email, please Contact Me