Gavin was in his room playing his tablet after school today. The rest of us were downstairs in the living room. Elliott was constructing a level on Portal 2 and Lizze, Emmett and myself were watching.
Lizze kept saying that she thought she heard someone screaming.
Where we live, it's not uncommon for people to be fighting outside. Sometimes people are just really loud and obnoxious.

Shortly after that, I heard it as well. We couldn't make out what was being said. Then all of a sudden, I heard "Help Dad"…. I got up and as I moved towards the staircase, I could finally hear Gavin screaming.
Lizze stayed with the other boys and I ran up to Gavin's room to find out what was going on.
When I arrived, I opened his door, expecting the worst.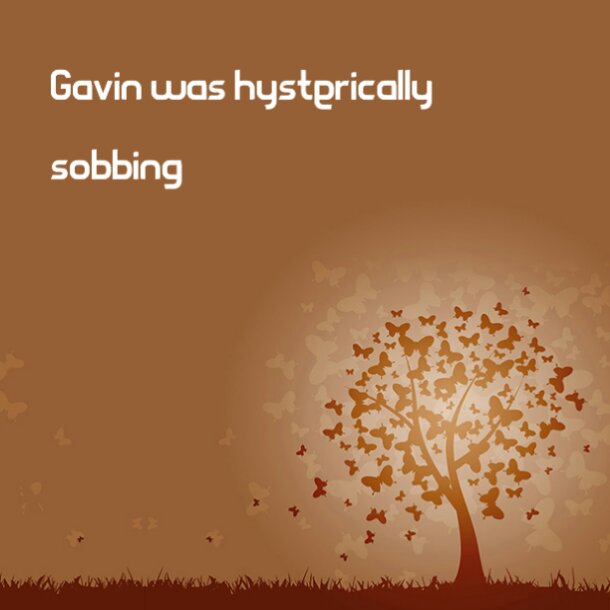 There was a million things running through my head as I entered his room. I was panicking because I thought he was in pain and for him to be that upset, it had to really bad.
I asked him what happened. I asked where he hurt.
Judging by his face, he'd been hysterically sobbing for some time and we just couldn't hear him.
When I finally got him to calm down enough, so I could what he was trying to tell me, I learned what had happened.
A mouse. He had seen a mouse.
Part of me wanted to scream at him because I was terrified something horrible had happened to him. The other part of me saw how traumatized he was and I quickly moved past my frustration. He was legitimately upset and there was no drama involved. This never happens.
When he had collected himself, he was able to explain what happened and I realized he was so upset.
Many years ago, before Gavin was officially diagnosed with Schizoaffective Disorder, he was in the throws of a really bad psychotic break.
One night we heard him screaming, just like he was today. We raced to his room and found him in bed, freaking out. He was hysterical. He was screaming for help because he could see hundreds of mice, climbing all over him. Even worse, he could feel them eating him alive.
That was really scary for all of us and the point where we realized that he needed medication…
Today when the mouse ran across his floor, he must have sorta flashed back to that night, many years ago.
I explained to Gavin that we have a very old house and sometimes in the winter, we get mice UT they are nothing to be afraid of. I also reminded him, that we have the cats so that they can catch the mice.
We went downstairs and explained what had happened.
Lizze and Emmett carried Blue (Emmett's cat) to Gavin's room. As soon as they opened his door, the mouse ran out of his closet and across the floor. Blue tore our of Lizze's arms and immediately took care of the problem.
Gavin feels a little better but I don't remember the last time I've seen him this legitimately upset.
Thankfully, he seems to have moved on and went to bed without a problem.
This site is managed almost exclusively from my Samsung Galaxy Note 3. Please forgive any typos as auto-correct HATES me. 😉
Follow @Lost_and_Tired

"Like" me on Facebook

Visit the My Autism Help Forums
To reach me via email, please Contact Me