We met with Gavin's pediatrician this morning. It's been almost 2 years since Gavin's been to his pediatrician. I know that sounds bad but Gavin's goes to all his specialists and between all of them, there hasn't been a need to get to the pediatrician.
Our pediatrician happens to be really amazing and he knows that Gavin's being cared for by a bunch of other doctors.
Anyway, we got him brought up to speed.

The major concern right know is the weight loss. There are a few possibilities right now being considered. His metabolism may be cranked up too high as a result of his autonomic dysfunction.
Vitamin deficiency has been tested for and ruled out. All his labs from last week came back normal.
Celiac Disease has been raised as a possibility.
If you remember, that was a concern awhile back. Actually, it was a concern about 3 years ago this month. It was the blood panel that his gastro had done, that identified Gavin's primary immunodeficiency…. The blood work had come back negative for Celiac Disease, however, Gavin's pediatrician pointed out today that if Gavin's IgA was low at the time of the test, the results are basically worthless.
Truthfully, we never pursued Celiac Disease after we found out about the immunodeficiency because that was a huge friggin deal and it took priority.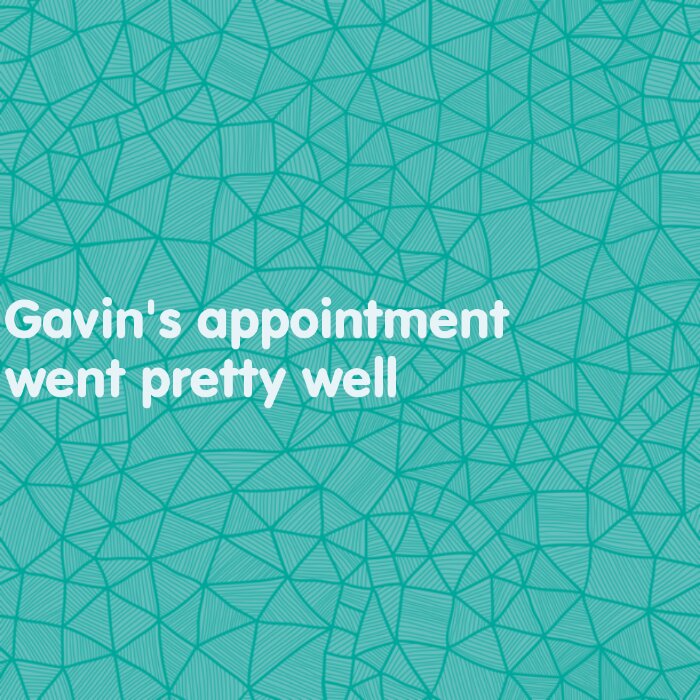 After that, it's been one major problem after another with Gavin's health.
We have to get back in to see Gavin's Gastroenterologist. He's since moved to the Cleveland Clinic so we'll have to make the trip.
Essentially, we are going to have to hurry up and wait.
Our pediatrician is going to go over all Gavin's records and formulate a plan of attack. There are labs that he wants to have done but he wants to make sure they haven't already been done. He knows Gavin's fears and he wants to get everything done in one shot, so we don't have to out him through anything more than we have to.
For right now, we have to increase his caloric intake and see if he can at least maintain his current weight.
Gavin's not due for blood work for about 3 weeks. We're going to use that time to figure out what tests need to be done. As far as the weight loss is concerned, there's no immediate danger, at least that we know of. Honestly, this plan seems pretty reasonable to me and I'm comfortable with it.
Our pediatrician is very conservative and very thorough. Gavin's in good hands.
This site is managed almost exclusively from my Samsung Galaxy Note 3. Please forgive any typos as auto-correct HATES me. 😉
Follow @Lost_and_Tired

"Like" me on Facebook

Visit the My Autism Help Forums
To reach me via email, please Contact Me