It seems like it never ends.  I suppose that's because it never does.. Our furnace went down and the house is a bit on the cold side.  This isn't a good thing for a great many reasons. For starters, it's fricking cold and the temperature in our poorly insulated, century old house keeps falling.
On the bright side, it's warmed up to the low 20's outside.  If this had happened a couple of days ago, it would have been significantly worse. Thank God for small favors. 
My sole purpose today is to get this fixed ASAP.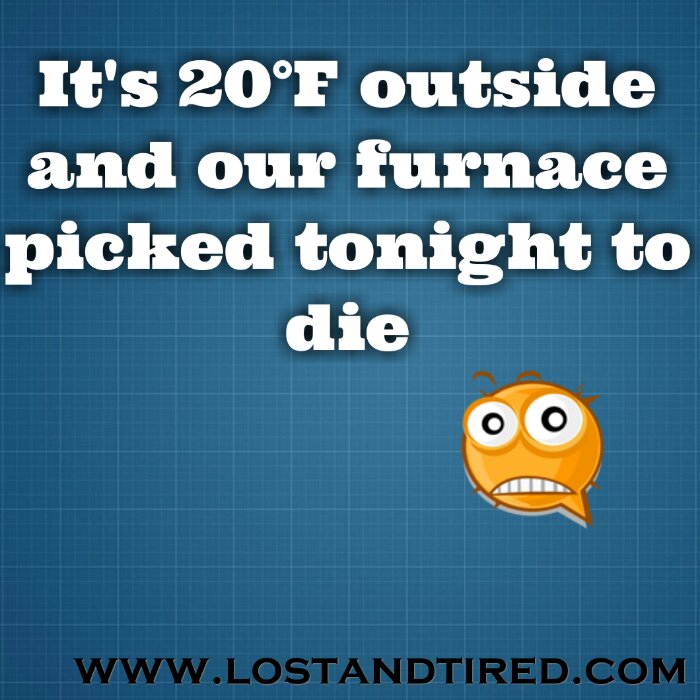 I believe the biggest problem we have is the blower motor. It's appears to be burnt out. I'm not sure how expensive that is but I'm guessing it's not cheap. Of course, the ignitor isn't even turning on either.. Who the hell knows. I'm not an HVAC guy, so I'll have to leave that to someone who is.
I'll likely have to make some calls and maybe look for some local agencies that can help with the costs. This isn't exactly something that can be put off. However, everything else that I was supposed to be doing today will have to be bumped to the back burner.
I'm not gonna lie, this isn't going to be fun but we will get through this and some day be able to look back and see just how far we've come.
I also want to say thank you to our friend Michelle because within minutes of me venting on Facebook about what happened, she made available some space heaters. Thank you so much for being our friend.
Everyone is snuggled under extra blankets tonight. The boys are comfortable and safe. We have a space-heater in the hallway and one downstairs.
It will be really cold downstairs in the morning but we'll survive and emerge from this tunnel even more experienced than we already are.
This site is managed almost exclusively from my Samsung Galaxy Note 3. Please forgive any typos as auto-correct HATES me. 😉
Follow @Lost_and_Tired

"Like" me on Facebook

Visit the My Autism Help Forums
To reach me via email, please Contact Me