This is one of those posts that I haven't done in a really long time.  I'm gonna be brutally honest about how I'm feeling and what I'm thinking.  It's really important that you not take what I'm saying, outside the context of this post. 
Here we go……
Today I've reached a new level of frustration with Gavin. It got to the point that I had to tell him that he needs to stop talking to me.  I couldn't process what I had just learned, especially with him talking in my ear nonstop.

I've gotten a bit ahead of myself.. Let me start at the beginning.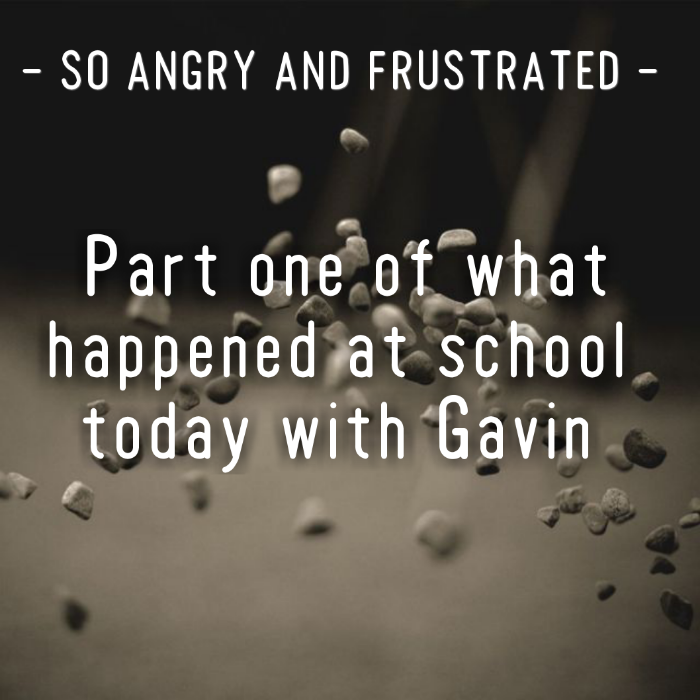 I managed to get Lizze out of the house today by taking her to lunch.  Her social anxiety is crippling, so we just ate in the car and waited for the boys to be done with school. 
We went into the school a bit early because I wanted to speak with the office.  Lizze was very comfortable there so she chatted with the office administration and I was collecting the kids as they came down the hall.
The day was going pretty well and I was feeling positive about the rest of the afternoon.
That's when it happened.
I said hello to Gavin and his response was, "Dad, I have to tell you something."
I immediately began to shutdown because I know what conversations like this lead to and it's not a pleasant place. 
He told me that his teacher, Mr. M, wanted him to bring his math worksheet home so we could see it. Gavin was really vague about the details and basically said that he didn't know why.
After we got in the car to go home, Lizze and I began to ask him questions about what happened, so we had a better understanding of what went down. 
Gavin acted as though he had no idea why his teacher would want us to see his paper. The conversation was maddening because it was clear that he knew what he did, he just didn't want us to know. 
Lizze decided to call the school and leave a message for Mr. M. We were going to get to the bottom of this, one way for another.
When we would ask Gavin a direct question, he would answer it in a way that would evade the question being asked. I swear, I just wanted to beat my head into the steering and drown out his excuses. 
When we heard back from his teacher, we learned some things that have me questioning myself all over again.
Turns out that Gavin has been pulling the same crap we caught him doing a few months ago. He's not doing his school work and then turning it in incomplete. He's also getting his friends and teachers to help him, instead of doing the work himself.
His teacher went on to explain what else Gavin has been doing. Apparently he puts nonsensical answers on his work and then sneaks up to the teachers desk, while he's occupied with another student and puts his paper in the middle of the pile so that it isn't found until later because he just doesn't want to do the work.
Lizze explained that we see the same thing at home and we are concerned that the work is over his head.
Mr. M stopped Lizze and said that he had to respectfully disagree with the notion that the work is over via head. He said that while in class, Gavin rattles off the answers with no problem. He knows how to do the work but so some reason he just doesn't want to do the in class work/homework.
We decided that from now on, we will sign every single one of his worksheets that he has to complete at home because he didn't finish it in school. This way his teacher knows we've seen the work.
When Lizze got off the phone, we sat down at talked to Gavin. He tried to change the subject and then had a little tantrum, complete with hitting himself and everything.
He knew that we knew what was going on. He knew that his teacher and his parents were on the same page again. He finally admitted to doing these things but was unable to tell us why he was doing them.
The conversation devolved from there and I just couldn't listen to him try to play the victim.
I was so pissed off and frustrated that I didn't even want to hear his voice. I told him to just stop talking and go to his room.
Lizze and I have to figure out what to do here because this can't continue.
I'm going to stop here and save my thoughts for the next post. I'm still trying to process this and figure out what I think and feel because this isn't cut and dry. There are many things to consider and at least one meeting with everyone, so that we can ensure that we are all on the same page.
This site is managed almost exclusively from my Samsung Galaxy Note 3. Please forgive any typos as auto-correct HATES me. 😉
Update: If you like this post, check out these as well. Click —–> Here <—– for my Top Posts.
Follow @Lost_and_Tired

"Like" me on Facebook

Visit the My Autism Help Forums
To reach me via email, please Contact Me