In the morning I will be giving Gavin his second subcutaneous IVIG infusion. While the transition to home IVIG has been pretty positive so far, it's not without sacrifice. This will be the first time in a while that his IVIG infusion has interfered with his life.
This morning is supposed to be a school-wide field trip to celebrate all that the students have accomplished so far this year.
The school is taking all the kids bowling today. It was originally supposed to be last month but due to the crazy weather we've been having, it had to be postponed. The day has finally arrived and Elliott and Emmett are so excited. Elliott's a bit wishy washy about it but Emmett is absolutely ready to hit the lanes. The school has given players bowling team shirts to make them feel part of a cause and to encourage them to perform better. The shirts definitely look good and make the boys appear handsome. Emmett has always wanted to enjoy the professional feel while bowling and this gives him a chance to do just that.  

Unfortunately, Gavin will be needle deep inside of his IVIG infusion and won't be able to attend.
Lizze and I talked about it and decided that we would offer to give Gavin his infusion before bed tonight. This would make it possible for him to still go bowling with his friends in the morning. I want him to have this opportunity to be a kid.
We are at a point with him were we want to make sure that he gets a chance to experience life whenever possible. With everything he has going on, we truly don't know how many chances like this he'll have and so we want to take advantage of as many as possible. We want Gavin to build memories and have fun being a kid.
I brought this to Gavin after school yesterday and he was very quick to turn it down.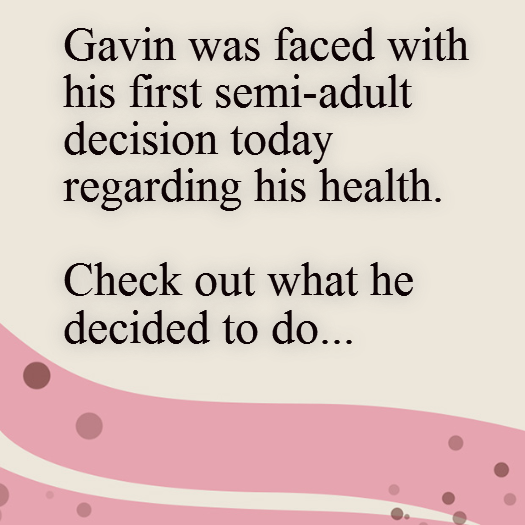 He really didn't have a reason other than he didn't mind missing the field trip. I even sorta pushed him to go and he refused.
Gavin likes his routine and getting his infusion in the morning is part of his new routine. He's dead set on wanting to undergo this procedure when it's scheduled to happen. We left the choice up to him because we want him to do what he feels comfortable with and it's a good opportunity to give him a little bit more control over his own life.
I kind of wish he had taken us up on this because I think he would have fun but he made his decision and stands by it. Lizze and I will respect that.
I know the boys will be disappointed that Gavin won't be there but they also understand.
While I'm sad that Gavin has to be in this situation in the first place, I'm proud that he was able to make up his own mind on how to proceed. This shows me that he recognizes the importance of the IVIG and has made it a priority.
Related articles across the web
This site is managed almost exclusively from my Samsung Galaxy Note 3. Please forgive any typos as auto-correct HATES me. 😉
Update: If you like this post, check out these as well. Click —–> Here <—– for my Top Posts.
Follow @Lost_and_Tired

"Like" me on Facebook
Visit the My Autism Help Forums
To reach me via email, please Contact Me