Let me begin by saying that we all survived today. That's the long and short of it. We survived.
Gavin's IVIG Infusion did finally happen this afternoon. The meds didn't arrive until almost 1 pm and so by the time we got him prepped, it was time to pick up the boys from school.
This infusion didn't go so well for Gavin. His body really seemed to struggle this time and he went into a moderate Autonomic Crisis.

The transient rash (which is only possible during a crisis) appeared about 3 times during the infusion. He began to sweat and became disoriented. He wasn't able to tell me where he was or what day it is. That's not a good thing. (The picture below shows the rash)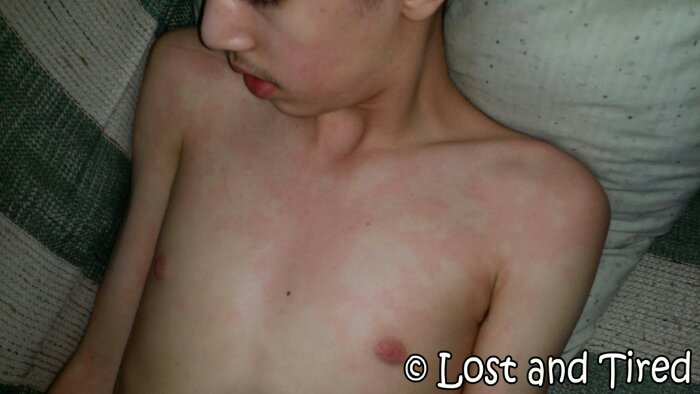 For some reason this process seemed to take so much longer than normal but I guess it lasted about 2 hours or so.
Gavin did eventually stabilize but this was really concerning for me.
I thinking that we have have to give him Ativan prior to these infusions in the future. The Ativan would supress his nervous system and in theory, reduce the chances of him going into a crisis.
On Monday I will have to call the Cleveland Clinic and speak with the Autonomic specialist and get his thoughts. For the record, Ativan is the only drug known to help reduce or prevent a crisis of this nature.
The rest of the day was really difficult.
Lizze is having a really, really rough time right now and so she spent most of the day in bed trying to rest.
The stress of the day had us at odds for a little while but we got everything worked out.
I can't really explain how much stress I'm feeling over everything going on in our lives right now. So very little is within my control and that's a really helpless feeling for me.
To be completely honest, I'm having a rough time sorta holding everything together. I don't see that changing anytime soon either. It is what it is I guess.
I always try to focus on or at the very least, identify the positives from the day. I suppose that the silver lining from today would be that we simply survived the day. Gavin survived his IVIG Infusion and his crisis didn't last too long. Gavin's meds showing up was a good thing as well.
It's not always easy to find anything positive in our daily struggles but there were definitely a few positives today….
This site is managed almost exclusively from my Samsung Galaxy Note 3. Please forgive any typos as auto-correct HATES me. 😉
Update: If you like this post, check out these as well. Click —–> Here <—– for my Top Posts.
Follow @Lost_and_Tired

"Like" me on Facebook

Visit the My Autism Help Forums
To reach me via email, please Contact Me