I shared earlier that we endured a massive tantrum this evening.  Gavin has been beyond challenging today and it all came to a head when he chose not to do his homework when he was told.
After everything that transpired today at school and the revelation that he's been lying to us about serious medical symptoms.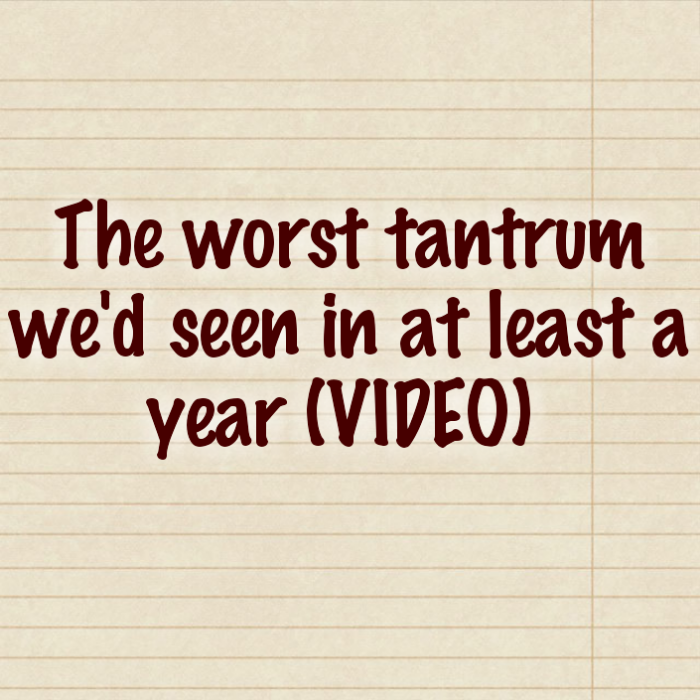 We've reached a point that he apparently figured out how to manipulate us by pushing buttons that absolutely ensure we have to respond.  We can't take a chance that something is actually wrong because this can very easily be the difference between life and death. 
The obvious problem is that this puts us in a corner and gives him a tremendous amount of control.
We didn't know everything until after we had brought him home from school today.  When we got the whole story neither of us we happy. 
He was told to work on the homework that he had yet to turn in. Instead of doing that, Gavin decided to play with Legos.
When I discovered that he hadn't done his homework, I told him that we were going to take away his choice of what he's going to have for dinner.  That's it. That's what set this off.
A few things to keep in mind when watching this video:
1) This is NOT a meltdown. This is a tantrum because he's not getting what he wants.
2) Everything he saying and doing is meant to manipulate me into backing down from holding him accountable for his actions.
3) I'm not cold and emotionless. It's important that I not react to most of what he's saying or doing.
4) Those of you out there that think he just needs a hug are not experienced in Reactive Attachment Disorder. Hugs don't fix this.
5) Gavin is a very unique child and cannot and should not be compared to most other people. There are so many pieces involved in this. This is less Autism and a whole lot more of Reactive Attachment Disorder.
6) While I'm not a fan of using food to adjust behavior, it's the only real currency he has and we aren't denying him anything accept his ability to choose what he wants for dinner. This has been approved by all his specialists.
7) THIS IS NOT FAMILY OR WORK FRIENDLY. THIS IS VERY LOUD AND MAY BE DISTURBING TO SOME VIEWERS.
8) I share this because I want people to understand what families like mine go through. It also provides a great deal of insight into what we are personally going through and how it's handled.
9) You are going to have to accept that what I'm saying about this video is the truth. We have an army of doctors and specialists and we have learned the best way to deal with Gavin over long, very challenging period of time.
10) Lastly, I don't claim to be perfect. I make mistakes but I do my very best to manage this situation in a way that is as calming as possible without playing into the drama (and it is drama). Please, if you don't have anything nice to say, don't bother sharing it.
Tantrum with Self-injurious Behavior:
http://youtu.be/Ktz1fCq8Um4
This site is managed almost exclusively from my Samsung Galaxy Note 3. Please forgive any typos as auto-correct HATES me. 😉
Update: If you like this post, check out these as well. Click —–> Here <—– for my Top Posts.
Follow @Lost_and_Tired

"Like" me on Facebook

Visit the My Autism Help Forums
To reach me via email, please Contact Me