One of the things that's really, really tough about raising a child like Gavin, is something called splitting. Splitting is essentially what it sounds like.  The child seeks to create tension, chaos and drive a wedge between two people or parties. 
This is something Lizze and I have been warned about for years but until last night, I had thought I was smart enough to not let this happen. 
I guess smart enough is the wrong choice of words.  I thought I was aware enough of splitting, to avoid allowing him to do this to us.  I was wrong and wrong in a big way.

Last night it all sorta came to a head while we were at Dr. Pattie's.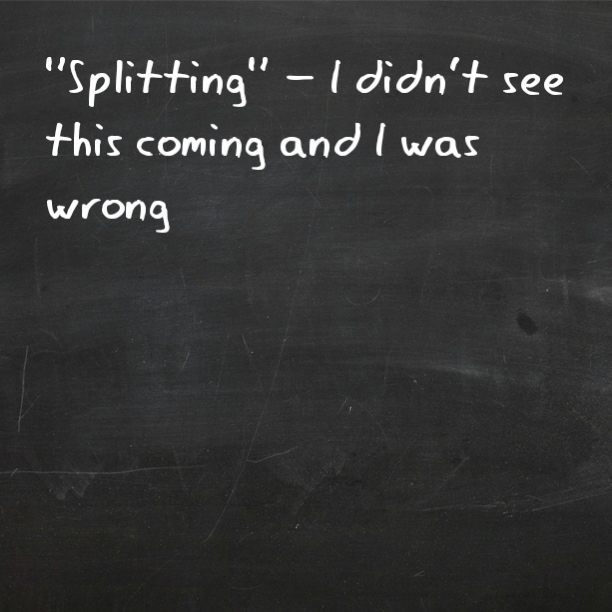 We were talking about what was going on with Gavin and what he's doing to Lizze.  The conversation between Lizze and I got really heated and emotional.
She was convinced the Gavin was splitting us.  I argued that I was very aware of what he was trying to do and it wasn't working. 
Ironically however, it took the better part of an hour of intense arguing for me to realize that she was absolutely right…
We were fighting because he successfully pitted us against each other. It took me succumbing to the splitting to realize what was happening. 
I didn't understand what was actually happening because he I thought I was smarter then he was.  Clearly I underestimated his abilities. 
While this has been a source of strain between Lizze and I, at least we both recognize it for what it is and can once again say that we are on the same page.
That being said, Gavin overheard part of our conversation and could see that he succeeded in his goals of dividing us.  He became emboldened with this knowledge and after a few days of leaving Lizze alone, he started up again this morning. 
At least we are more aware of what's going on now and Lizze and I are back on the same page. 
Nothing about this is easy…….
This site is managed almost exclusively from my Samsung Galaxy Note 3. Please forgive any typos as auto-correct HATES me. 😉
Update: If you like this post, check out these as well. Click —–> Here <—– for my Top Posts.
Visit the My Autism Help Forums
To reach me via email, please Contact Me