This is so awesome but at the same time sad and heartbreaking.  Elliott has started writing in a journal because he's trying to find an outlet for his feelings.
He's learned from both Lizze and myself that writing can be a very healthy outlet. 
The other day he received a journal while at Literacy Night at his school.  Lizze explained what he could do with it and Elliott got really excited. 

He even created a little corner in our living room where he can hide and write. 
Tonight he wrote his first entry and asked me to share it with you.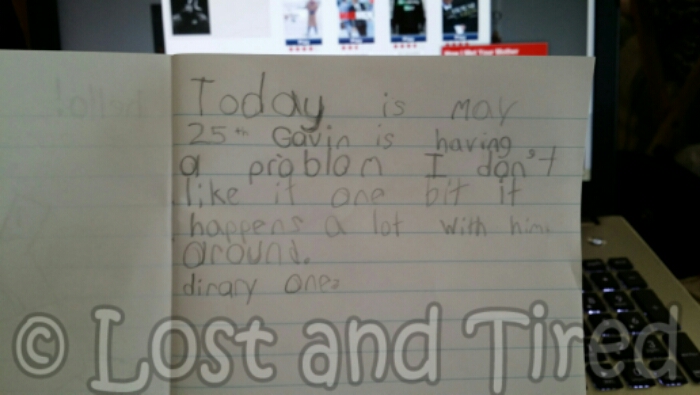 I'll give you a bit of background on why Elliott was writing this.
Lizze and I went to visit my Grandmother and give her one of our Roku boxes so that she can use Netflix on her TV.  That's an adventure I'll share another time.  🙂
Anyway, the boys hung out with Lizze's Mom today while we were gone and apparently Gavin was hoarding the Legos or at least all the good ones.
Gavin is notorious for doing this. 
Elliott and Emmett were upset by this and asked Gavin to share but he wouldn't.  They felt the situation wasn't resolved and we're really upset when they arrived home. 
Gavin of course downplayed the whole thing but it is what it is. 
Elliott apparently was upset enough to write about it in his journal. I think that it's awesome that Elliott is using this is an outlet but it's also really sad that he's in this position in the first place.
Even worse, both Elliott and Emmett said that when they asked Gavin to share the pieces, he gave them an"angry look and made a fist with his hands." Both boys consider what Gavin did to them to be bullying and I suppose that they are right.
When Gavin was confronted by Lizze when this was brought to our attention, Gavin gave Lizze the same look and made fists with both his hands. Elliott and Emmett said that was exactly what he did to them…
Emmett was so upset and he said "please tell me you don't think I'm lying."
At the very least Elliott discovered a healthy outlook for his feelings and Emmett expressed his feelings to Lizze and I. The impact of Gavin's behaviors have a growing reach….
This site is managed almost exclusively from my Samsung Galaxy Note 3. Please forgive any typos as auto-correct HATES me. 😉
Update: If you like this post, check out these as well. Click —–> Here <—– for my Top Posts.
Visit the My Autism Help Forums
To reach me via email, please Contact Me