I've had a few setbacks today that have been pretty demoralizing for me. We lost our Internet and all we have is our phones left to connect with.
There have simply been too many unexpected things come up that we couldn't absorb financially and the Internet is the lasted the thing to be lost and left beind, at least for now.
I've said this before but it seems appropriate to say it here again. We never recovered from having our van stolen about 2 years ago.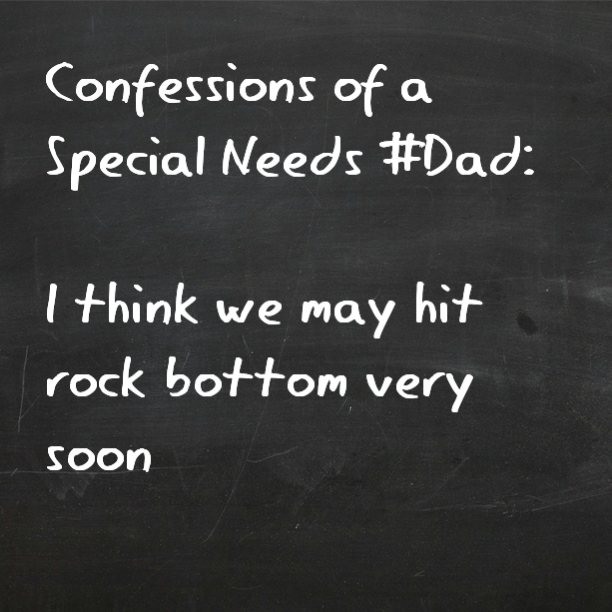 I'm trying really hard not to lose hope but it's not going so well….
Something that I'm working on right now is trying to maintain our last connection to the outside world, T-Mobile. If we lose our phones, we have no way to communicate with our support team, doctors or even family.
That will also mean that I couldn't do anything goes with this site.
I do have some hope here because T-Mobile has always been really good about working with with me in the past. With any luck I can buy myself some time to get something else figured out…..
It's just one more thing going on in our lives that I have to juggle. We all have problems but sometimes it feels like I see a disproportionately large amount of challenges that I can't just work through.
I long for the day when I can put all this stress and anxiety behind us and move forward.
I can't speak for every special needs family out there in the world but I will say that my family is really fragile and it doesn't take a great deal of anything to rock our boat to the point of being capsized.
At this point it's time to toss on the life preservers and get ready to swim for our lives.
I'm feeling like we are pretty close to hitting rock bottom at this point.
This site is managed almost exclusively from my Samsung Galaxy Note 3. Please forgive any typos as auto-correct HATES me. 😉
Update: If you like this post, check out these as well. Click —–> Here <—– for my Top Posts.
Visit the My Autism Help Forums
To reach me via email, please Contact Me