I don't typically like to toot my own horn or pat myself on the back but I'm making an exception today and here's why.
Elliott has quite a few obsessive behaviors.
He will frequently get hyper focused on a topic like Ben 10, Legos, Mine craft etc. The two most challenging thus far are Ben 10 and Pikmin.

Elliott's been collecting these little stuffed Pikmin toys and making his own versions of the utlramatrix. He's even using fabric to create these little Pikmin on his own and then hounding me to stitch them together.
I'm so tired of Pikmin and totally exhausted from all these Utlramatrix prototypes that he wants created.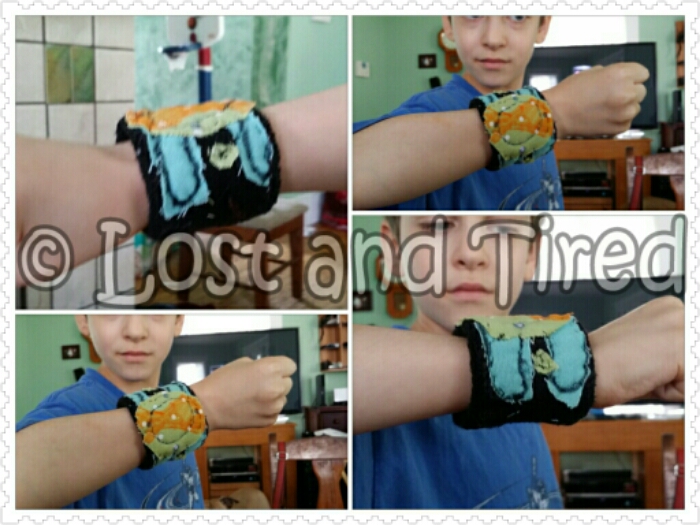 Yesterday I sewed a Pikmin character for him, out of some extra fabric and a few cotton swabs. I'm not the best seamstress (or whatever the masculine form of that word is) a day the last thing in the world I actually want to do is stop working and break out the sewing kit.
However, Elliott can be relentless when it comes to things like this and as I have a soft spot for him, I will usually sometimes cave in and stitch whatever he wants me to.
Last night he decided that his paper and wristband Ultramatrix was no longer going to work because the paper parts kept falling off.
Before I could even mouth the words don't even think about it, Elliott had removed the paper parts and cut out replacements from fabric and wanted me to sew them on to the wristband.
I managed to avoid doing this for almost 24 hours but he finally wore me down and I agreed to do the project.
I'm sure many of you understand how when our kids on the Autism Spectrum get an idea in their head, they can perseverate on that thought endlessly. Quite frankly, it can and often does drive me crazy but it's not his fault.
Anyway, I took on the upgraded Ultramatrix project this morning, using the parts he created out of cloth and cut out for me.
It went pretty well but it was tedious and time consuming. It also shows that I have very limited sewing skills but I did my best.
He's really happy with it and I suppose that's all that really matters. It was worth the time and effort to see him smile. Elliott's so anxiety proned that we don't always see him smile. It's really nice to see that smile break through at times like these. 🙂
I'm feeling like a pretty awesome Autism Dad today…..
This site is managed almost exclusively from my Samsung Galaxy Note 3. Please forgive any typos as auto-correct HATES me. 😉
Update: If you like this post, check out these as well. Click —–> Here <—– for my Top Posts.
Visit the My Autism Help Forums
To reach me via email, please Contact Me