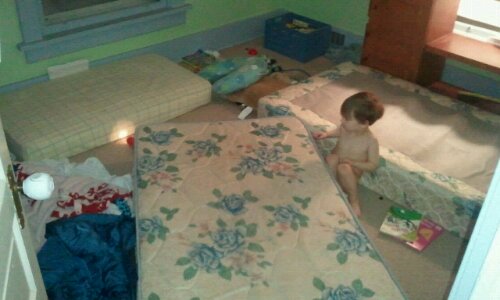 Today has been very trying for me… I searched for hours for pills that were never missing (see the previous post) in the first place.  Lizze slept for about 20hrs today.  To be honest I am getting concerned because she has a history of blood clotts and with her lack of activity now, I'm getting a bit worried.
Emmett has been a holy terror all day long. You can see in the picture just challenging he is. He did that several times today and it only takes him a minutes to destroy it again after I fixed it all up.

School starts again in the morning and that will be lost of fun.
Things I managed to do today:
Laundry
Dishes
Gutted and cleaned the kitchen (looking for phantom pills)
Bathed all 3 kids
Fed all the kids
I even managed to do some work.
I will openly admit that this is WAY harder then I thought it would be. My back problems have come back since I haven't been able to walk. That really sucks cause that effects everything for me. I am going to try to get some sleep. I'm completely exhausted…..
Posted from WordPress for Android