Going into this it sounds like a plug and I guess in some ways it is. But I truly am doing this and it is helping. So I thought I would share and maybe it could help someone else.
I may be partial to the Samsung Epic 4G if haven't already noticed. There is a really good reason for that. Besides the phone being one (if not the best) of the best smartphones on the planet currently it has also heped bridge the communication gap between me and Emmett.
I use a program called Voice4u to help Emmett communicate with us. The app is available on the Android Market. Basically it allows me to take pictures of people, places and things. I then put the pictures in a catagory an record audio clips overtop of the pictures. As an example, if Emmett is hungry and we can't figure out what it is he wants we can open the app on my Epic and Emmett can scroll through pictures of the food we have available in the house. He does this by swiping his finger across the screen to change pictures. When he finds the picture of what he wants he simply touches it. When he touches it he hears my voice saying the name, for example, Hotdog or crackers.

This also works for people he comes into contact with. I'm currently building a database of pictures of family and therapists. When I take their picture I have them say their name, for example, daddy, grandpa mommy. So now Emmett has the ability to swipe through pictures of people and when he touches them the introduce themselves in their very own voice.
We also have apps that help us with ASL. When we need to know a word we simply load the app and look up. When we touch the word a video loads instantly and demonstrates the sign. This has been REALLY helpful.
This has worked out really well for us. We do the same thing for places he goes as well. It helps him become familiar with people, places and things. He is even starting to learn the words as well. We have a very long road ahead but being able to use my Epic in this manner has literally been a godsend.
Most any Android device can do this so if you don't have an Epic there's nothing to worry about. The Epic is just particularly well suited for this job. The camera is 5mb and takes great pictures. So objects are easy to see and identify. The slide out keyboard helps for lots of typing. The screen is almost scratch proof so it's ok if he uses it.
The other thing that really helps is the ability to store and play movies in tons of formats (.mkv,.avi,divx). I rip movies we own into 720p .mkvs and they play beautifully. As you are aware my kids are in the hospital quiet often and because of that we have struggled to find ways to make things easier for both them and us. Now we carry movies and educational games on my Epic and the kids have a way to make the time pass a little easier.
We used to carry around a binder with hard copies of all these things but now it's all stored on the Epic.
We also can scan documents (medical records ect) and save them in pdf format for easy access on the go. I have owned many smartphones but this is by far the most useful. I hope this helps someone out there to find a creative way to utilize their smartphone to help bridge the gap caused by Autism or other developmental disorder. If anyone needs help setting something up please ask and I would love to be able to help.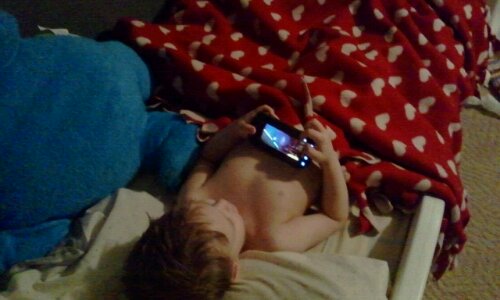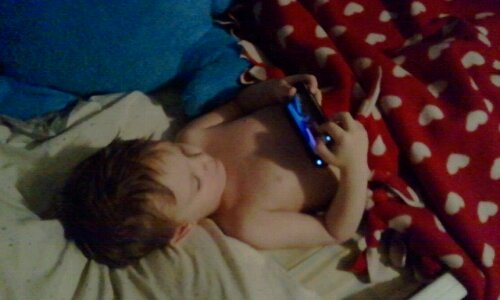 Posted via midNIGHT powered Epic 4G