~Autism and wandering go hand in hand. A very dangerous combination~
I have an escape artist on my hands. I have written about this before but up until now Emmett has never "escaped". Emmett John has gotten out of the house 3 times over this past weekend. We have 3 locks on the front door plus an alarm system. What Emmett does is unlocks the door and simply runs. We are spread pretty thin and so, at times, my attention is elsewhere. He has learned to exploit these lapses in "security".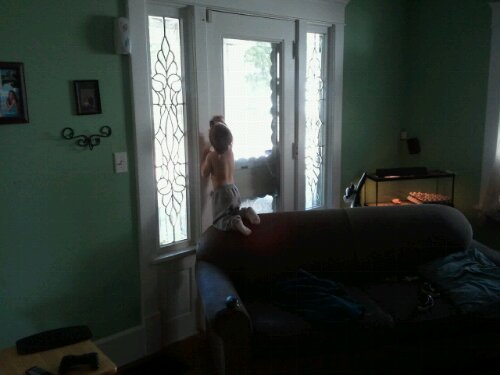 I've gone out several times to get new "baby" proofing things. The problem is that I need to "Emmett" proof things.
The resourcefulness of an almost 3 year old with Autism is UNBELIEVABLE.
When he sets out to accomplish something he sets out to accomplish something. This is one of the reasons I want to get the yard completely fenced in. I feel like it would be a last line of "defense". My fear is that he will get out and wander or run away. We don't live in the best neighborhood but honestly even if we did this would still be a HUGE concern. I know I need to be WAY more vigilant but it's really tough trying to stay on top of everything. This obviously needs to be a priority. I'm actually really scared by escape skills. I have started arming the alarm during the day. The moment ANY outside door is opened the alarm goes off the the location or rather what door was accessed goes out over the alarm pad as well. For example, if he goes out the front door, the alarm will sound and a voice will say "front door". It's not a perfect system but at least it's something.
Special needs parenting to a child with Autism is never easy.
You always have to be at least a few steps ahead of them. Not always an easy task especially when have 3 children with Autism.