Important note: See Resentment,Grief and Guilt (A very honest post) for background. Reading that first, will help to put the rest of this post into perspective.
Today has been one of those days. You know,  the kind that just seems to literally come out of nowhere and yank the rug out from underneath you. I met with Dr. R, Gavin's psychiatrist, this afternoon. It was just supposed to be a routine medication check. We were discussing some of the things that we were concerned about with Gavin.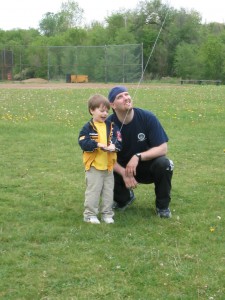 I broached the subject of childhood disintegrative disorder as a possible explanation for Gavin's continued regression. The last thing in the world I was expecting to hear was Dr. R actually agree with me. He said that he has been thinking this was a possibility for some time now but he wasn't sure and he still isn't.
This condition is extremely rare and he has never, personally seen a case, so he didn't want to un-necessarily worry us. We have, however, reached a point where something is clearly wrong and Aspergers no longer seems explain Gavin's condition.
I typically describe Gavin as having a rare form of Aspergers, for lack of a better explanation.  The reason for this is that continued regression is not very common. Some regression isn't all that uncommon but the frequency that Gavin has experienced regression is concerning.
The Mayo Clinic defines childhood disintegrative disorder as the following:
"Childhood disintegrative disorder, also known as Heller's syndrome, is a condition in which children develop normally until ages 2 to 4, but then demonstrate a severe loss of social, communication and other skills."
The symptoms, per the Mayo Clinic are as follows:
"Dramatic loss of previously acquired skills in two or more of the following areas:
Language, including a severe decline in the ability to speak and have a conversation
Social skills, including significant difficulty relating to and interacting with others
Play, including a loss of interest in imaginary play and in a variety of games and activities
Motor skills, including a dramatic decline in the ability to walk, climb, grasp objects and other movements
Bowel or bladder control, including frequent accidents in a child who was previously toilet-trained
Loss of developmental milestones may occur abruptly over the course of days to weeks or gradually over an extended period of time."
This fits Gavin with a disturbing amount of accuracy. It also makes alot of sense as well. I'm still learning about this rare form of Autism, so I am by no means well versed yet. Gavin developed normally till about 3 or 4 and it was like someone flipped a switch and shut Gavin off. I know that sounds really strange but it was literally like we put him to bed……"Gavin"…and he woke up….someone else.
Over the past few years, Gavin has also lost his once massive vocabulary and his speech has considerably regressed. He has lost a good deal of muscle coordination as well, falling up the stairs and dropping things quite frequently (this could also be explained by puberty).
While nothing is for sure right now, childhood disintegrative disorder does seem to fit (at least to some extent) and it makes more sense then Aspergers.
While trying to research this disorder, I found very little in the way of a prognosis or expectation of progression as well as treatment options. What I did find was located on the National Institutes of Health website. The following is per National Institutes of Health:
"The outlook for this disorder is poor. Most children with the condition have an impairment similar to that of children with severe autism by age 10. Treatment is the same as for autistic disorder (autism) because the two disorders are similar. One experimental treatment uses steroid medications to slow the progression of the condition."
What I don't know is how far this disorder progresses. Does it ever reach a point where is stops? I have heard this is fatal and that is terrifying. What I do know for sure is that this disorder is so rare that not much in the way of research has been done. So there doesn't seem to be a huge amount of information out there and that is frustrating to say the very least.
What next?
Our next move is to locate an expert in the field. Dr. R said we need someone who is uniquely qualified to evaluate Gavin and properly diagnose him. He is not familiar with anyone that specializes in this disorder. Much of his career was spent at Harvard, so he has only been in the area since roughly 2005.
He stressed that we don't know anything more then Gavin has continued to regress over the years and Aspergers doesn't explain that. Many of his symptoms do fit the criteria for childhood disintegrative disorder but Dr. R is not comfortable diagnosing this because he has no personal experience with this disorder.
As a side note, Gavin has had extensive genetic and various other testing done over the years to rule out as many possibilities as we can. None of these test have ever produced any biological or metabolic explanation for Gavin's conditions.
In the morning the phone calls will begin. We are going to contact the Cleveland Clinic, Rainbow Babies and Nationwide Children's Hospital in Columbus. If we have no luck, then we will have to widen our search to bordering states. We will do whatever it takes to figure this out.
Right now, I really kinda numb. I'm scared because I don't know very much about this disorder. I like having a better understanding of what we may be dealing with. It helps me stay focused and moving forward. At the moment, we are in limbo and that has be very much on edge.
Lizze has spent a great deal of time crying today after I talked with her about this. Writing this has helped me to keep from going crazy tonight. Tomorrow is a new day and we now face a very new and potential challenge. I don't know where this new fork in the road is going to take us but we will find a way to get through this….whatever "this" ends up being.
I would greatly appreciate any insight you may have pertaining to this disorder. Right now I don't know enough about childhood disintegrative disorder and that is very unsettling.