I'm going to be very honest with you all here. Even at the risk of sounding like a less than stellar father. I think that it's a good thing to share our feelings, so I'll lead by example.
All right, with that said, Gavin is driving me absolutely insane. God love him, because it isn't his fault but that doesn't make it any easier to deal with. In fact it's actually worse.because of the whole guilt factor side of things.
Gavin is acting more and more child-like every day. By that I mean he is literally acting like a much younger child almost like Emmett..actually. The problem aside from the obvious is that Gavin is much bigger and stronger so that complicates these tremendously.

The other thing I have been noticing is that Gavin is moving much, much faster now. His movements are no longer graceful, if that makes sense.
For example, as I'm writing this, he was trying adjust the pillow behind him on his chair. Instead of simply adjusting it, he jumps out of his chair and whips the pillow around, almost knocking half the things off the mantel.
His sudden, uncoordinated movements have also caused him to fling his water bottle on to the floor at least 3 times in the past hour or so. I keep trying to get him to slow down but everytime I remind him it's like he's hearing for the first time…..every single time. If I had hair left I would be pulling it out right now.
Just now, Gavin dropped his pencil…….twice. so he asked if he could sharpen it. He then sharpened his pencil, only to drop it again and break it. I have to constantly remind him of things…..literally. It's exhausting and frustrating to say the very least. It think I might just start recording the frequently used phrases so that I simply have to hit play…you know…just to kinda break things up a little bit.. Does that sound really bad to say something like that?
I just feel like a scratched record and I have run out of ways to say basically the same thing….over and over and over and over and…..sorry. Hopefully you get the point. Dammitt, there goes the water bottle on the floor again. Scared the crap out of me this time. It's one of those aluminum ones, so when it hits the floor it makes a great deal of noise.
I'm going to quit while I'm ahead. Hopefully I have presented my experience in a way that makes sense. If not, then at least I got to vent a bit. I fear I will be having to do this a whole lot more, at least the way things are currently going.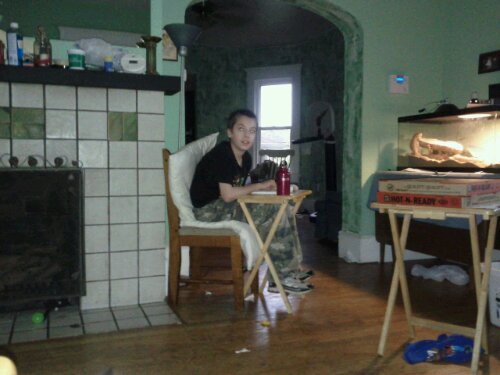 – Lost and Tired

Post by WordPress for Android via Nexus S 4G without the use of proper editing tools and with the disadvantages of a bastardized version of auto-correct, seemingly with a mind of its own.
Please Vote for Lost and Tired (just click the link) and help me spread Autism Awareness. Everyone can Vote once a day 🙂