Welcome to another edition of Emmett's Shirt of The Day.  Haven't had many of these recently because….well… Emmett wouldn't wear any clothes.  However,  with school back in session,  he's wearing clothes more often now and once again showing off his shirts.
Today Emmett choose his buzz off bee shirt.  First thing he does when he gets to school is stick his chest out so his teacher can see his shirt. 
This is just a fun little post I started doing a while back so Emmett could see himself on TV.  It was also a way of encouraging him to wear clothes. So I thought I would share with everyone else.  To kinda lighten the mood and celebrate some of Emmett's awesome personality.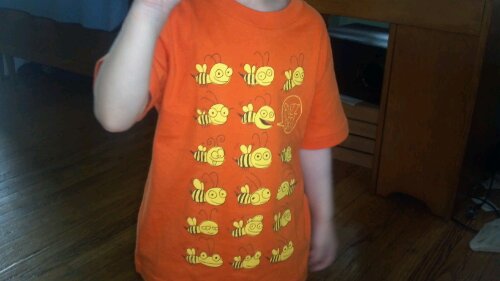 – Lost and Tired

Posted by WordPress for Android via Tegra 2 powered Motorola Photon 4G (provided to me at no charge by Sprint) without the use of proper editing tools and disadvantages of a bastardized version of auto-correct.
Please Vote for Lost and Tired (just click the link) and help me spread Autism Awareness. Everyone can Vote once a day 🙂