So I was able to get a picture of just one of the many cold soars Emmett is dealing with right now.  This is actually a smaller one.  I got the pictures so we could gauge the progress and recovery. 
We got some medicine tonight to numb up his mouth for a bit.
The problem is that it's like mouth wash.  How many 3 year old and rinse,  swish and spit?  They said it's lidocaine,  benadryl and antacid so he can swallow some.  This doesn't seem very well thought out.

We just used cuetip to apply it instead. FYI,  for a child with pretty significant sensory issues, it appears that having his mouth number is worse then the pain. I hadn't thought about that.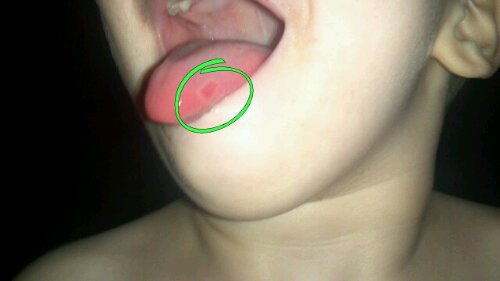 – Lost and Tired

Posted by WordPress for Android via Tegra 2 powered Motorola Photon 4G (provided to me at no charge by Sprint) without the use of proper editing tools and disadvantages of a bastardized version of auto-correct.
Please Vote for Lost and Tired (just click the link) and help me spread Autism Awareness. Everyone can Vote once a day 🙂