Update: As of late yesterday afternoon, our power was restored. Thank you so much for your unbelievable everything. Please see my Official Update or more information.
We had a really, really interesting wraparound meeting this morning. The long and short of it is this.
Lizze is in crisis and we have to attend to her needs.  Gavin has to be home or its pointless to make all these trips to the doctors because we can't provide accurate information about how he's doing. 

The meeting was ending and one of the people asked a question that could only be answered honestly by revealing just how bad things are for us right now. 
I had assumed that they knew this stuff as they have read this blog before. 
Apparently they didn't. 
I had to swallow what's left of my pride and explain just how bad things really were.  It's one thing to write about them and it's something entirely different to have that discussion face to face.
I feel like a complete and utter failure. They assured me that I wasn't but that doesn't change the fact that I can't take care of my families needs. 
You know, when I began writing this post, I felt pretty low.  I realize that I put a lot of that on myself, I really do.  That doesn't make me feel any better to know that.  I don't need anyone's help to feel guilty, I've got that market cornered all on my own. 
To make matters worse, we just arrived home from all of our running around this morning. 
When I opened the screen door, I saw the tag on our door. I knew right away what that meant. 
It meant that I had failed once again.  It meant that life for my family was about to become much more challenging.  It meant that we no longer had electricity running to our house.
Lizze had to run off to an appointment (just down the street) and I'm working with a very frustrated Emmett, who doesn't understand what's going on…
Despite how overwhelmingly negative this quite obviously is, people went without power long before this and they did just fine.  We're gonna have to rough it.
To be completely honest with you all, I have no idea what we're going to do. 
What's really hard is spinning this in a way that doesn't frighten the boys or increase their anxiety.  We have flashlights and some batteries.  I have three batteries charged for my phone. 
I think we will pretend that we have gone back I  time, to a point where we didn't have power.  We'll practice all the things that we would need to do I  the event of a blackout.  I'll turn this into a teaching thing and try and make something positive.
This is my fault.  I don't blame AEP for shutting us off because it's my responsibility to pay the bill. Unfortunately, I fell behind and I've been trying to play catch up, obviously unsuccessfully.
AEP isn't some big bad company, hell bent on making our lives more challenging. 
This is just part of being a special needs family and simply not having the resources left to maintain even the bare essentials.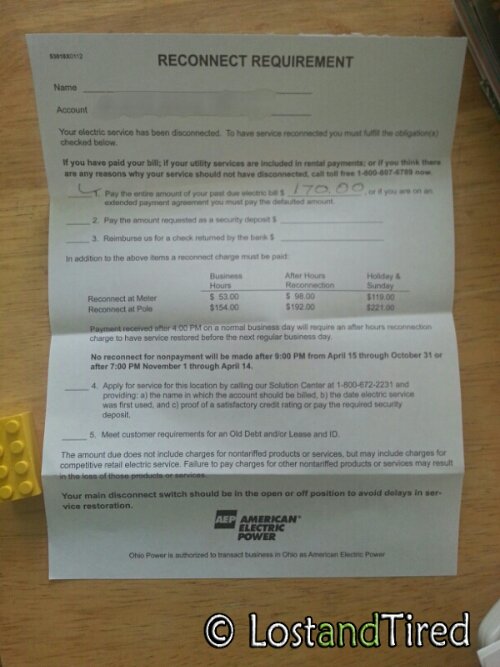 This site is managed via WordPress for Android, courtesy of the @SamsungMobileUS Galaxy Note 2 by @Tmobile. Please forgive any typos as autocorrect HATES me. 😉
Check out my #Autism Awareness Store to find really cool and unique #Autism Awareness Clothing and Accessories, designed by me. 😉
For more ways to help the Lost and Tired family, please visit Help the Lost and Tired Family.