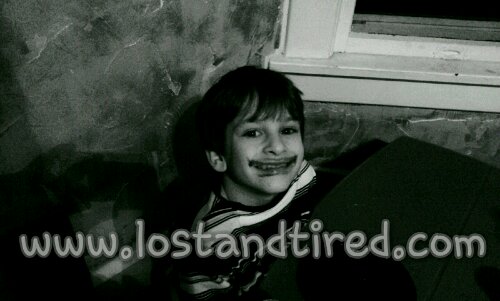 I thought I would update everyone on Operation: Get my kids to eat their vegetables.
My little green ops mission has been met with both, success and set back. The success has been mainly with Gavin and Emmett.  Conversely,  the set backs have involved Elliott,  who is,  hands down,  the pickiest eater in the Lost and Tired household.

My goal is to get them eating their vegetables,  even without their knowledge. 
I have found a why that has been largely successful,  the smoothies.
I've been doing this for myself for a few years now,  but haven't applied this to the kids until more recently. 
The deal is that if they want desert,  which they always do,  they have to have a smoothie first. This seems to work,  especially with Elliott,  at least in recent days.
Tonight's,  Elliott inhaled his smoothie.  I was really impressed because he didn't even complain.
Tonight's smoothie featured the following:
Blue berries
Strawberries
Bananas
Mixed Berries
Broccoli
Baby Spinach
Oatmeal
Welches 100% dark purple grape juice
Water
2 packets of Ideal (sweetener)
I blend it all together in my blender and the kids actually drink it.  It honestly tastes really good and it's really good for them. 
Dark green vegetables and dark blue/black/purple berries are very good for you.  The oatmeal provides whole grains and the grape juice antioxidants. 
I figure as they get accustomed to this,  I will slowly remove the sugar over time and make it 100% O'natural……..