We have all heard the phrase united we stand, divided we fall. How many of us apply that lesson to our daily lives?
I'll be the first to admit that I fail at this sometimes. At times, I feel it's better to go my own way because I don't agree with how or why someone else is doing something, even if we both have the same goal.. There are even times that I disagree so strongly that I simply don't want to be associated with them.
Having said that, I fully intend on changing that part of me. While I honestly don't take that approach very often, I still do at times and that's enough of a reason for me to address this within myself.

This leads me to the point of this post.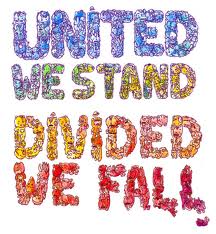 I have spoken about this many times but I feel it's important enough to revisit. I know that not everyone will agree with this but to each their own. While I don't have Autism myself, all of my children do. If that's not a good enough reason to be a vocal advocate then I don't know what is. I can't pretend to know what it's like to have Autism but I do know what my kids go through and I know what adults with Autism have shared with me.
With that said, perhaps it's best to begin this with a question.
Why is there so much division in the Autism community?
As I find myself more and more involved with people, families and others touched by Autism all across the world, there is very common thread linking us all together.  We are all concerned, worried and focused on or about our children's future. We all want the very best life has to offer for them. We know the challenges they are going to face, especially as they get older.
Life with Autism is a journey and while we all seem to have similar or even the same destination, we sometimes seem to drift apart along the way.
Let me try and explain what I mean.
I know that no matter how carefully I word any of this, I will inevitably offend someone. If that does indeed happen, I truly apologize as that is not my intent. I have these thoughts in my head and I want to share them with all of you. Here goes nothing 🙂
For as long as I've been involved in the Autism community, I have noticed there seems to be a rift. I know I'm not the only one that sees this because I hear from people all the time with the very same concerns and or experiences I have had. Maybe rift is the wrong word to choose. Perhaps I should say that the Autism Community seems fragmented.
I actually like the word fragmented more. I think it's a more accurate.
Over the years I have seen this fragmentation on more than one occasion. If you want proof, just look at the vaccine debate. I'm not even sure debate is the right word to use.
Like many communities, the Autism Community is full of different people from different backgrounds. It would stand to reason that these different people could hold different beliefs and have experienced Autism in different ways. Some people are dealing with the challenges associated with raising a child with Aspergers and yet others are struggling with a child on the lower end of the Autism Spectrum. While those people may each face unique challenges and some of those challenges may overlap, they are still vastly different experiences.
Some people believe that vaccines are responsible for Autism, while others don't. Some people don't like or support a particular Autism charity while others do. There is the debate over acceptance vs a cure. There is even tension between parents of kids in different places on the spectrum. One of the bigger things going on lately, especially in the social media world, is bullying.
I have even recently seen disputes arise when some adults with Autism are offended that people like myself, for example, advocate for our children when we are not diagnosed with Autism ourselves.
Do I have proof of this? Well for starters, it's my personal experience and so I don't really feel like I need to prove anything. However, if you doubt what I'm saying, you should take a closer look around -Google is your friend- you'll eventually come across what many others, including myself have already experienced.
Just as an example, I can't tell you how many times I have personally been attached for vaccinating my children. I have even had Facebook Friend Requests declined simply because I have "Liked" the Autism Speaks fan page or I have someone in my Friends List that they don't like or agree with. I get messages explaining this as the reason for the declined Friend Request. Really?
I get emails every single day from people, literally all across the globe, sharing their experiences with me. You can read the various comments on my blog or other popular blogs out there and you'll come across more people that have shared a similar experience.
This isn't about creating drama or passing judgements.
This, for me, is about asking the question, why is it, that instead of embracing our differences and working together, we all to often allow these differences to fragment us?
I mean, I'm pretty sure we all want the same thing. We all want what's best for our kids. We all want our children to have the very best future possible.
Instead of focusing so much on the why's or differences, perhaps we should focus more on the how's. Instead of fighting over why our children have Autism, what about focusing on how can we work together to educate the world about our kids? So much precious, irreplaceable time is wasted allowing our differences to fragment us. Wouldn't that time be better spent figuring out how can we help our kids to be ready for what life has in store for them?
In my opinion, my boys are already Autistic, at this point does it really matter what caused it? To me the answer is a resounding no.
I know it's important to isolate the cause but science will one day give us the answers to at least some of those questions. Right now, in this very moment, so many children, families and adults are already living/struggling with or touched by Autism. At this point, I personally, don't much care what caused it, I care more about helping my kids navigate their world.
This journey we are all on can be very challenging, not only for our kids but for our family as a whole. What we do now and the choices we are currently making can have a profound impact on this journey. I guess the real question is, what kind of impact will your decisions make on this journey?
Our kids won't be kids forever. What about when they are all grown up? Will the decisions you make today help to make life any less challenging or forgiving for those touched by Autism down the road?
For those of you wondering why I'm so passionate about this please read My Broken Heart:The Story of The Bare-Handed Man.  If you have any questions after reading that, I don't really know what else to say.
Remember, United We Stand, Divided We Fall.