We were gone for a large portion of yesterday.  We had Gavin at the doctors and found out some new information.
While we were away,  Elliott was at school,  Emmett was with my Mom and Bella and Maggie were in their respective kernels,  waiting for our return.
It's so neat to watch Emmett and Bella reunite after spending time apart. Lizze got some cuter pictures but this one kinda caught them running to each other.  It was like you see in the movies.  All that was missing was a nice soundtrack.

What you can't see in this picture is the dozens of tiny Bella footprints,  all over the front of Emmett's coat. 
I know she's work and added responsibility but moments like this really make me grateful she's a member of our family. Emmett just loves her to pieces and I think it's pretty clear that she feels the same way.
For a child with #Autism and very few friends,  outside of his big brothers,  this fills my heart with happiness and hope.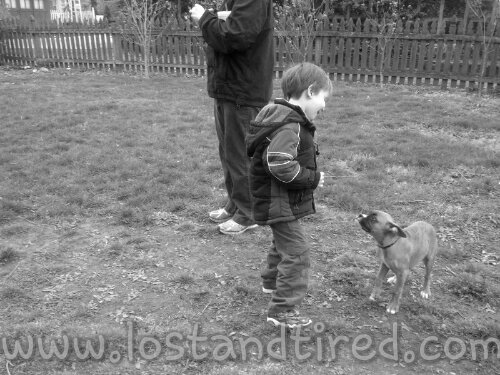 **Thanks for reading**
       -Lost and Tired
Please join our Community Autism Support Forum
Posted from WordPress for Android so please forgive any typos as auto-correct and I don't see eye to eye. 🙂