Please be aware that we are in the midst of handling a behavioral crisis with Gavin. We are in the process getting Gavin a psychiatric evaluation at Akron Children's Hospital. He may actually be admitted to the psychiatric unit once again. There is a great deal of time spent just waiting right now so I want to document the process so that you can experience some of what we are going through right now. This is not easy and I hate having to make these types of decisions but it's part of being a special needs parent.
We had a very difficult decision to make this afternoon. Gavin has experienced a significant personality shift in the last month or so.
We have been seeing a significant increase in the number and severity of his meltdowns. Self-injury has escalated as well. This afternoon, Gavin had the worst meltdown he's had in over a year. He cut his leg up and significantly escalated in the land of self mutilation.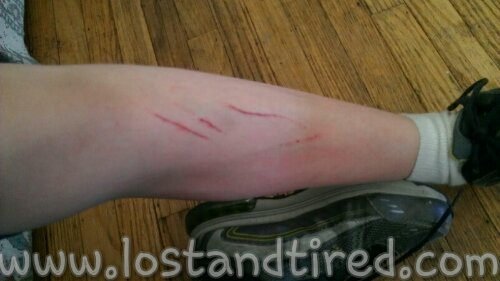 His meltdown terrified the other boys and he literally shook the entire house. The screaming, I'm afraid, is going to earn us a visit from the police.
Watching this video will be an eye opener for some, others will more easily relate. It's very loud and some of the footage may be a bit on the disturbing side.. However, I think it's important that people see the reality of what my family faces because there are so many others out there going through something similar. It's not easy, in fact, it just plain sucks.
My hope is that by sharing our experience, maybe those going through something similar won't feel so alone.
I also want people to see what a serious meltdown can be like. It's one thing to know what having a meltdown meansand it's another thing entirely to actually witness one. A meltdown like this is experienced with many senses. I see what's happening, I hear what's happening and I feel what's happening.
I'm writing this from an interview room in the behavioral health side of the ER at Akron Children's Hospital. This is a long and unpleasant process and most of the time is spent waiting. Writing this is helping me stay sane.
I don't feel good and I don't want to be here. I hate this part of special needs parenting.
Please be aware that this video is very loud and at times is violent. This is not child Friendly at all. This is for educational purposes only.
[youtube width="720″ height="480″]http://www.youtube.com/watch?v=ySi0XZyD8pg[/youtube]