Elliott is easily the most sensitive of our 3 boys.  He recently spent some time at Grandma's house coloring Easter Eggs.  Actually,  it was more like one Easter Egg, but it was a very special one.
Elliott and Grandma had carefully drained the egg out of the shell,  so the egg was hollow.
They hand painted it and it looked beautiful.  Elliott was so very proud of his egg.  When he brought it home,  he asked me to take a few pictures and share them with all of you.

However,  during the picture taking process,  there was an accident and Elliott drop his precious egg.
The egg was only slightly damaged and Grandma took it home with her and fixed it right up.  When Elliott and Gavin went over to Grandma's house yesterday to hang out,  Elliott got his prized possession back.
However,  this very special egg was never meant to be.
When I arrived to pick the boys up yesterday afternoon,  there was yet another accident.  Gavin was trying to be helpful and was bringing Elliott his egg.  Unfortunately,  as is very typical for Gavin,  he dropped it on the floor.
The egg shattered into tiny pieces.  The egg was left in a state that was incompatible with being repaired. The tears were pouring down his tiny face and he was devastated by the loss.
Gavin kept apologizing for the destruction of Elliott's masterpiece.  There are very few times that Gavin apologizes for something he's done where he actually means it.  In my opinion,  this was absolutely one of those times. It was truly an accident and Gavin was truly sorry.
For those of you newer to our story,  Gavin suffers from many things but a degenerative neurological disease is responsible for his loss of coordination and muscle control.
Elliott looked at Gavin,  through his tears and forgave him.  Elliott told Gavin that it was okay.  He knew it was an accident. 
While the remains of the egg have been laid to rest, I think Elliott showed back bit of who he really is. By forgiving Gavin,  he was able to put the whole thing behind him and hasn't worried about it since. 
I think we could all take a lesson from Elliott's handling of this situation.  I'm very proud of him.  Grandma is going to have him back over very soon to make another work of art together.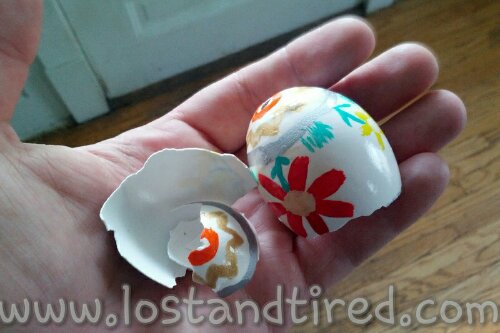 **Thanks for reading**
       -Lost and Tired
Please join our Community Autism Support Forum
Posted from WordPress for Android so please forgive any typos as auto-correct and I don't see eye to eye. 🙂