Today's Victory is brought to you by Mr. Emmett John himself. Emmett is perhaps the pickiest eater I have personally come across and with 2 other kids on the #Autism spectrum,  that's saying something..
For those that may be missing the significance of what's going on in this photo,  I'll be glad to explain.
Lizze had steamed some peas for herself and had quite a bit left over as she was the only one eating them. However, out of nowhere,  Emmett began asking questions about the peas and asked if it was okay if he ate them. 

This is so friggin big because Emmett will not eat vegetables. He has even backed off on fruit as well.
Getting him to eat anything anymore has become a challenge and out of nowhere he just decides to start eating peas. Whether or not he will ever eat them again remains to be seen,  but you better believe we will keep them on hand.
This one definitely goes into the Lost and Tired family win column.  Great job Emmett,  let's hope this trend continues and even rubs off on your older brother. 🙂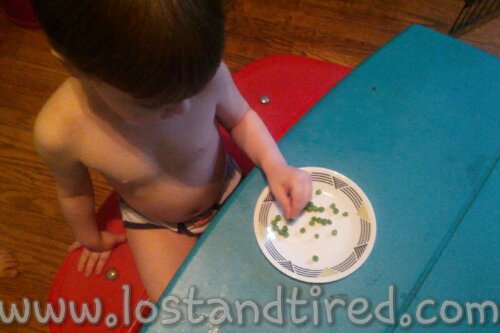 **Thanks for reading**
       -Lost and Tired
Please join our Community Autism Support Forum
Posted from WordPress for Android so please forgive any typos as auto-correct and I don't see eye to eye. 🙂