As a rule , I always try to include my kids in activities around the house. I think that by doing so, not only to I get to spend quality time, but also help to teach them valuable skills that they can actually use in life.
Sometimes these activities revolve around grocery shopping, putting air in the tired, caring for the dogs, fixing the computer, other household chores or repairs. My kids respond really well to this type of approach. I think that many kids on the #Autism spectrum do well with hands on types of approaches. At least my kids do.
Today, we had to repair a crate used to store books. One of the slats had come loose and needed to be tacked back into place.

I had a very grumpy Emmett John who needed something to do. I asked him if wanted to help and use Daddy's tools and he jumped up and down, shouting yes. I told him that I would show him how to use a hammer and nails to fix his book shelf.
He did a really good job following directions and being very careful not to hurt himself or anyone else in the process.
After fixing the crate, he wanted to tack down a few nails that had popped up through the hardwood floors and staircase. He did a fantastic job and our socks are very grateful. 😉
Take a few minutes and teach your kids something everyday. It doesn't have to be profound but just something that allows you to spend time with them and teach something that they could later on in their lives. Everything you teach them now, helps them on their journey to independence.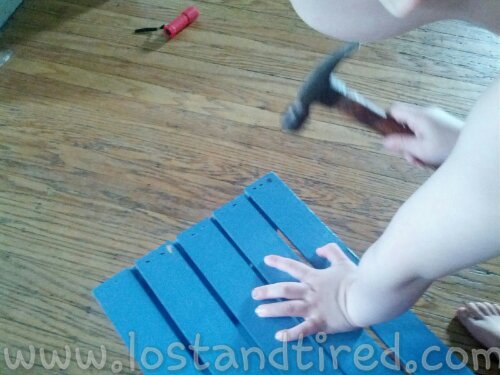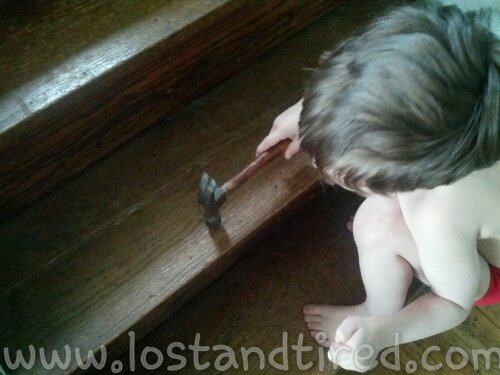 **Thanks for reading**
       -Lost and Tired
Please join our Autism Help Forum
Look for "Autism Help" app at the Google Play Store

Posted from WordPress for Android so please forgive any typos as auto correct and I don't get along very well sometimes.