Something that really frustrates me is some of the destructive behavior we see from our kids on the #Autism spectrum.  Not all my kids are destructive, it's mostly Gavin and to a much lesser extent,  Emmett. Just because a child is on the spectrum doesn't mean they are going to be destructive.
Gavin has destroyed countless things over the years. Most of the physical damage was done to his own property but sometimes the damage occurred to other things as well.
We used to replace the destroyed items when we were just starting out on this journey.  We learned pretty quick that it was something we could keep up.  Not only was it to expensive but it sent the wrong message to Gavin.

The latest issue we have had was with his mattress cover.  As you can see,  it's lost its effectiveness.  This began during his meltdowns and the end result can be seen below.
The only way we can even begin to have the slightest hope of teaching Gavin the value of money and to respect both his and other people's property is to make him replace the items he breaks. Accidents are one thing but purposeful destruction is something all entirely different.
If you experience destructive behavior,  how do you cope and how do you teach your child that's not acceptable behavior?
You'll note in the picture below that Gavin is without a bed frame or box spring.  The reason for that is because he physically destroyed both,  one more than one occasion.  We can't afford to replace things only to have them destroyed during a meltdown.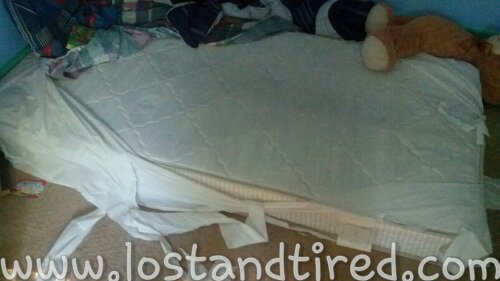 **Thanks for reading**
       -Lost and Tired
Please join our Autism Help Forum
Look for "Autism Help" app at the Google Play Store

Posted from WordPress for Android so please forgive the auto-correct induced typos