While today has been anything but a victory,  I'm doing my best to remain as optimistic as possible for the rest of the Lost and Tired clan. With that said,  I wanted award a Today's Victory.  I actually started this post before we got the news this morning about Gavin's health.
Today's Victory goes to my oldest son,  Gavin. He has just finished reading another book.  This time it was the classic Robin Hood.
He read it in only a couple of days and I think this may actually be the second time he's read this book,  cover to cover. He also wanted me to make sure that I share with you that this book had 20 chapters.

We require that Gavin spends time reading every day because if we don't hear will lose much of what he gained this year.  He enjoys reading,  especially when he is excited about the book.
I don't know what book he wants to read next but a trip to the library is in order.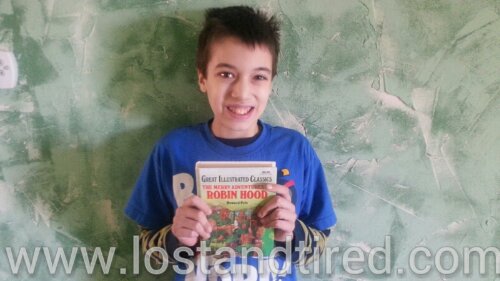 **Thanks for reading**
       -Lost and Tired
Please join our Autism Help Forum
Look for "Autism Help" app at the Google Play Store

This was posted via WordPress for Android, courtesy of Samsung's Galaxy S III. Please forgive any typos. I do know how to spell but auto-correct is working against me.