Today I was forced to lay wubby to rest.  Wubby is or rather,  was,  Bella's favorite toy.  Surprisingly,  wubby latest for about 6 months and I have to give her credit for that.  Bella,  like my boys,  plays very rough with her toys. 
A lesser toy would have quit many months before now. 
This afternoon however,  she finally expired.  There was nothing that could be done.  I declared time of death at 3:47 pm.  There was nothing I could do,  as her face and head had simply sustained to much trauma.

So, I wanted to pay my respects to a favorite toy and even closer friend.  Wubby kept Bella from chewing on things that she wasn't supposed to and I truly appreciated that. 
Wubby,  you will be sadly missed but quickly replaced.  No offense.  🙂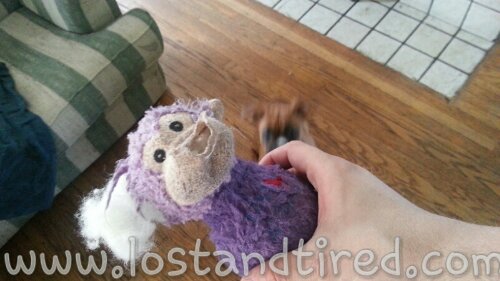 **Thanks for reading**
       -Lost and Tired
Please join our Autism Help Forum
Look for "Autism Help" app at the Google Play Store

This was posted via WordPress for Android, courtesy of Samsung's Galaxy S III. Please forgive any typos. I do know how to spell but auto-correct is working against me.