Elliott just came home from Cleveland tonight and wanted to know why Gavin isn't coming home. We never told Elliott that Gavin was going to the hospital. 
Elliott was surprised to find out that Gavin wasn't home.
How do you explain to a 6 year old little boy with autism,  that his big brother is locked up in the psych unit?

I've never had to do that before and I wasn't sure what I was supposed to say. I aways dislike moments like this because no matter what I say,  Elliott is going to be upset.
This was my explanation to him. 
I wanted to make it something that he would understand and relate to.
I told him that Gavin is sometimes like the Hulk. I explained that when Gavin gets upset he turns into the Hulk,  just like Bruce Banner. The Hulk is angry,  scary and smashes everything. However, when he meets the Avengers, they teach him to control his temper and use his powers to help others.
I told Elliott that Akron Children's Hospital is helping Gavin to learn to control his temper and use his powers for good just like the Avengers did for the Hulk. 
The Avengers helped the Hulk to not be so angry or scary to those around him.  The doctors and staff at Akron Children's Hospital are trying to do the same thing for Gavin.
He accepted that answer but was still crying.  He wanted to camp out downstairs because he doesn't want to be alone. 
Looks like Daddy's camping out in the living get room or cell again.
I think I did okay with my explanation and hopefully Elliott will feel better in the morning.
I don't think people realize just how big the impact is on the whole family when something like this happens.  Everyone is affected and everyone is hurt.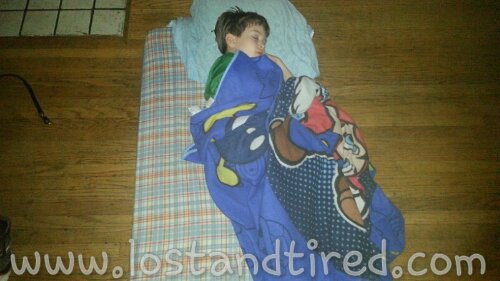 **Thanks for reading**
       -Lost and Tired
Please join our Autism Help Forum
Look for "Autism Help" app at the Google Play Store

This was posted via WordPress for Android, courtesy of Samsung's Galaxy S III. Please forgive any typos. I do know how to spell but auto-correct is working against me.