The Lost and Tired family has been moving into the whole foods lifestyle over the past few months.  We are trying to eliminate as much processed foods as possible from our lives.
This is not am easy task but one that is worth the challenge. 
Today we visited the Hartville Flea Market and stocked up on fresh fruit,  turkey and chicken breast.

In the picture below,  you can see all the fruit we managed to aquire today for $60. They are as follows:
1) 2 Flats of Strawberries
2) 6 lbs of red,  seedless grapes
3) 4 lbs of black or purple seedless grapes
4) 2 lbs of fresh green beans
5) 10 lbs of fresh peaches
6) 10 lbs of fresh plums
7) 4 lbs of bananas (for freezing)
8) 6 lbs of large blackberries
All the fruit is fresh and really in good shape. We washed and placed everything that would fit in the fridge,  in the fridge.  The rest is in the freezer. 
The boys love to munch on fruit throughout the day. I love that they are eating healthy. 
The fruit that has been frozen will be used in smoothies and banana ice cream.  It's soooooo nice to have fresh fruit in the house once again.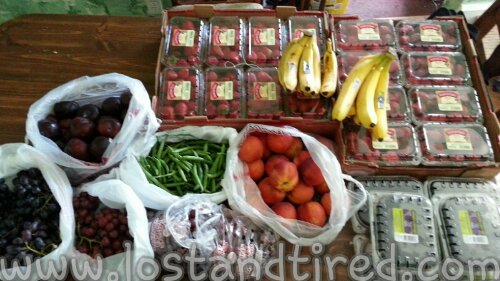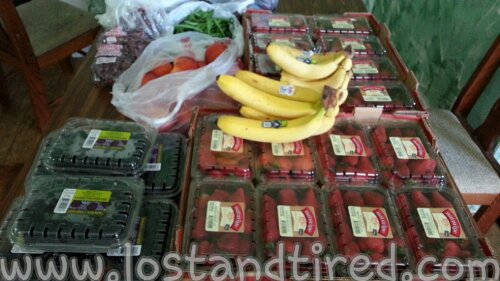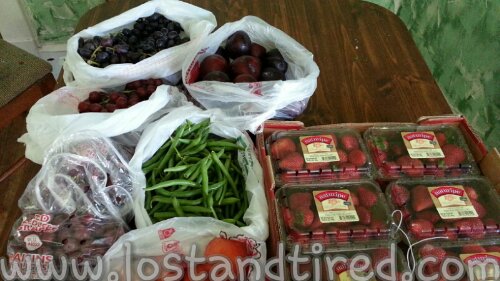 **Thanks for reading**
       -Lost and Tired
Please join our Autism Help Forum
Look for "Autism Help" app at the Google Play Store
This was posted via WordPress for Android, courtesy of Samsung's Galaxy S III. Please forgive any typos. I do know how to spell but auto-correct is working against me.