So I wanted to take a few minutes and turn our misfortune into a learning experience. This is simply meant to educate and nothing more. I share our story, good,bad and otherwise.  I do so in a transparent manner so that hopefully, lesson can be learned.
I wrote a post a few days ago, in response to the Fox News story about the little 5 yr old autistic boy denied lunch at school because his parents were behind on the bill.
There was quite a bit of judgements being made about the parents.  Some people thought they were bad parents because the bill was left unpaid.

My goal was to remind people that these parents shouldn't be judged so harshly because we have absolutely no idea what their lives are like. Special needs parenting can be very overwhelming, exhausting and down right impossible at times.
I shared with you all that I'm guilty of dropping the ball as well.  Does that make me a bad parent?
The problem with taking things at face value is that you won't have the full story.
I want to share something with you that just happened and I'm not proud of.  This is embarrassing for me but I think it's important for people to understand how these things can happen.
A few moments ago I watched as Dominion East Ohio (natural gas) pulled up in front of my house.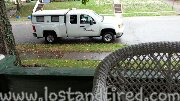 They had come to shut off our natural gas.  The gentleman was very nice, but his hands were tied. To our knowledge, we were on hold because of a medical certificate. This puts off the disconnect for 30 days and gives us a chance to come up with the money.
Turns out that the form was never received by our doctor and therefore never submitted.
There was no way to fix this on the spot so they had to disconnect our gas until this issue was resolved. The other option was to pay them $863 and that was not an option that we could afford. So our gas has been disconnected.  That means no cooking,  bathing or heating the house and it will be in the 40's tonight.
Now,  to anyone watching from the outside, it looks like we just didn't pay the bill, much like the parents of the little boy in the article.
However, a look beneath the surface will reveal a huge list of reasons why we fell behind, beginning with our van being stolen at the beginning of the year.
We were on the PIP payment plan for natural gas and I didn't realize that we had to renew this past January.  This resulted in us being removed from the plan and forced to pay the full amount.  I'm sure there was a letter sent out but in all the everyday chaos and the added drama about losing our only vehicle to theft,  I never saw it.
It was my responsibility and I accept it.
Honestly, we weren't in the best position to begin with but we were surviving. With that one event,  a chain reaction occurred that we have not been able to recover from.
That doesn't include the nearly half a dozen hospital trips for Gavin alone this summer,  many resulting in admissions.  The only other thing I can say is that when you have a special needs child,  or three in our case, it's really easy to get tunnel vision.
Should we have paid the bill? Absolutely. I once again accept full responsibility for that.
However,  does getting behind on the bill and having the gas shut off make me a bad parent?  I would hope not. However,  some may see it differently.
My point is that things happen.  Being a special needs family doesn't provide us with an exemption. In fact,  if anything, it makes us more vulnerable to the twists and turns that life throws our way. In the case of my family, we have been stretched so thin, it doesn't take much to send everything on a downward spiral.
The parents of that little boy have a great deal on their plate.  While I don't know their entire life story, I know enough about my own personal life,  that I would never assume they were bad parents and neither should you.
The bottom line is, things happen.  They happen to all of us. Sometimes, no matter how hard you try, things slip through the cracks.
As special needs families, we are tasked with an enormous amount of responsibility.  Why is it that people are so quick to point out the mistakes?
We have no idea what that family was going through. We have no idea what they managed to overcome.  All we know is that the lunch bill fell through the cracks.
Sure,  we lost an important utility.  However, we managed to survive this long. Gavin hasn't been rushed to the hospital in over a month. He's also relatively stable, health wise. There was a point this summer when we thought we were going to lose him to an autonomic crisis. We've also managed to keep our house and replace our van.
I would say those are huge accomplishments.
Perhaps others out there have managed similar feats. Perhaps,  they dropped the ball on somethings but I would imagine they accomplished so much more.
I'm not proud of having our gas disconnected but somehow we'll manage.  In the grand skeem of things, we have much bigger things to worry about.
I'll say it again.  There is no point in judging a special needs parent.  Most are already harder on themselves than you could ever be.