Elliott is afraid to go to sleep anymore.  For some time now, Elliott has been shaking in his sleep.  The shaking wakes him up and he immediately has the sensation of falling. 
This terrifies him and understandably so. 
He's been checked out my the neurologist because there was concern that these were actually seizures. 

However,  as it turns out,  this is a phenomenon that is relatively common in kids and is usually out grown. Basically,  what happens is that Elliott's little body is purging excess energy. Think of it as a spring being pulled and stretched out. At some point,  the spring can't stretch anymore and there is a release of energy as the spring comes back together.
Does that make sense?
I don't know of this is more common in kids on the #Autism spectrum. I just know that this holds true for Elliott. 
Tonight was one of those nights that he was stalling at bedtime.  He was doing everything he could to delay going to sleep.  He wanted to sleep next to me and this went on for so long that I missed walking tonight.  🙁 Having said that,  I couldn't leave him like that.
He wanted to squishy couch tonight in the worst way. 
He explained that when we squishy couch,  that it's impossible for him to fall anywhere because he's surrounded. 
I thought that was pretty darn profound for a 6 year old to come up with.
He did eventually fall asleep and is still sleeping.  This poor kid just can't relax.  Hopefully tomorrow is going to be better.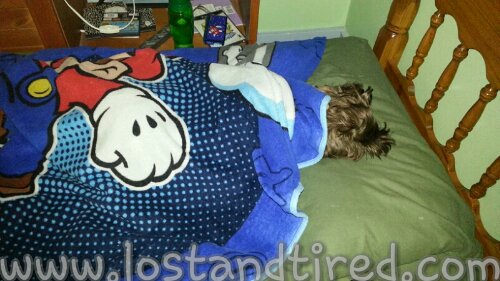 **Thanks for reading**
       -Lost and Tired
Please join our Autism Help Forum
Look for "Autism Help" app at the Google Play Store
This was posted via WordPress for Android, courtesy of Samsung's Galaxy S III. Please forgive any typos. I do know how to spell but auto-correct is working against me.