We had to contact the Vet's office this evening because the sedatives aren't working and we figured out why.
When Bella is away from Emmett,  she will actually sleep.  However,  when he's around her,  she is very much his service dog. We noticed this today.  We also noticed that Bella is hypervigilant around Gavin,  especially when Emmett's in the same room.
We brought this to the Vet's attention.  They told us that they hadn't even thought of that but we are absolutely right. 

That would explain why she isn't resting and is fighting off the sedatives. They explained that 99% of the animals put on these meds would just sleep forever and recover quickly. Because of Bella's bond with Emmett, she not allowing herself time to recover. 
We can't safely increase the medications she's was on and we don't want to give them to her if they are not going to work. 
We were instructed to give Bella 50mg of benadyrl twice a day.  This will safely help her to sleep and she shouldn't struggle as much. So far,  it seems to be working.  Having said that,  Gavin had a meltdown this evening and that kinda snapped her back into protection mode. 
She gets her next dose in the morning.  We just need to keep everything calm,  so she can rest.  If Emmett sits with her,  she will fall asleep,  draped across his lap.
Perhaps,  we just need to have some movie time for the next few days.  If Gavin is doing to act upon,  than he will spend time in his room reading. 
We can't let something happen to Bella.  She's done so much for Emmett,  and in turn,  us.  She's part of our family and we owe her.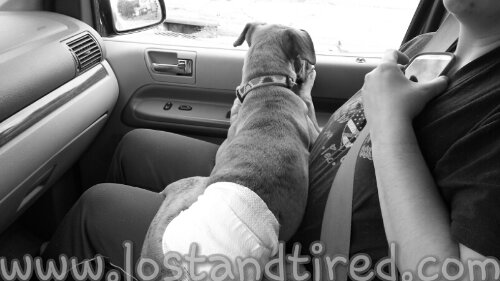 **Thanks for reading**
       -Lost and Tired
Please join our Autism Help Forum
Look for "Autism Help" app at the Google Play Store
This was posted via WordPress for Android, courtesy of Samsung's Galaxy S III. Please forgive any typos. I do know how to spell but auto-correct is working against me.