I was sitting here while Emmett fell asleep,  stressing out over all the various expenses I can't meet.  The thought popped into my head,  what would I do with $1,000,000?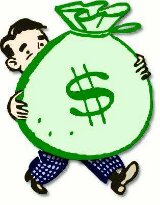 For me,  it's a lot like window shopping. I'm just sitting here thinking about all the things I would do with the $1,000,000 I don't have.

I came up with following list:
*these are in no particular order
1) I'd move my family to a safe neighborhood
2) I'd get Emmett into the preschool he needs but is too expensive
3) I would help my family
4) I would get Lizze a nice camera so she can pursue photography
5) I would get the kids the best, most awesome playground for the back yard
6) I would try to find Tim, from My Broken Heart: The Bare Handed Man and help him find a place to live
7) I would buy tablets to give give away to families that need them (android,  of course)
8 ) I would get myself a TreadClimber by Boflex to I could get in shape again
9) I would finish setting up my foundation and help as many families as possible
10) Maybe get an Xbox 360 cause I REALLY want to play Halo 4 in November
Those are just off the top of my head.  Obviously I would pay the bills and do whatever medical things needed to be done for my family as well.  However,  that would take up way to much room.
So,  what would you do with $1,000,000?  Let's have some fun with this.  Be creative and honest.  🙂
Ohhh….. I just thought of another one. 
11) Take a vacation.  We have never,  ever been on a vacation
This was posted via WordPress for Android, courtesy of Samsung's Galaxy S III. Please forgive any typos. I do know how to spell but auto-correct hate me.
Please join our Autism Help Forums
Look for "Autism Help" app at the Google Play Store