Emmett and I have been attached at the hip lately.  He's very much in a Daddy phase right now. While this can be exhausting,  I totally love the time with him. 
Today was one of those Precious Moments in #Autism. 
We were hanging out in the yard playing with his little tee ball set.  He's come so far in the last few months.  He used to really struggle with the whole eye hand coordination thing and was always missing the ball.

He would get so incredibly frustrated and wind up melting down because he just couldn't do as well as he wanted to. 
Today however, he couldn't miss.
He hit line drive after line drive.  I'm so proud of him.
This has helped me to remember how lucky I really am. You might be thinking that I've lost my mind. How could I possibly feel lucky with everything my family is going through.
Truthfully, it's pretty simple.
As a result of our situation and my family's need for me to work from home,  I was able to witness this moment with Emmett.  Not only did I witness his home run but I was a part of it with him.
Moments like these make everything I go through absolutely worth it.  It's moments like these that help me keep everything in perspective. 
While most people wouldn't want my life,  I wouldn't trade it for anything in the world.  🙂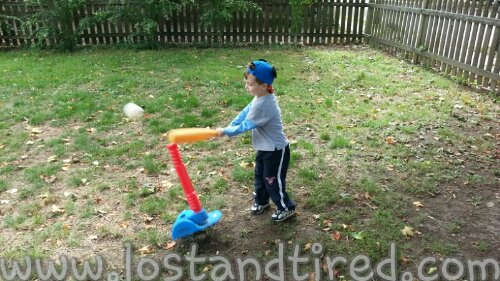 This was posted via WordPress for Android, courtesy of Samsung's Galaxy S III. Please forgive any typos. I do know how to spell but auto-correct hate me.
Please join our Autism Help Forums
Look for "Autism Help" app at the Google Play Store