I want to apologize because I meant to post this on Wednesday but the whole Bella thing….
Anyway,  I wanted to let you all know what we learned from our trip to the Cleveland Clinic. As you know,  Lizze was there Wednesday for an autonomic evaluation.. 
Here's the long and short of it. 
Basically, she seems to have some autonomic dysfunction but very minimal.

We also learned that it's very unlikely that any of her many symptoms are related to autonomic dysfunction at all. 
They are however,  very concerned about the medications that her current neurologist has her on.  This of course, has been a major concern of mine for quite some time now. 
They feel that until we get Lizze's 8, almost 9 month old migraine under control there's not much we can do. That has to be the priority and Lizze and I both agree with that. 
The other thing we were told was that she needs a fresh start. 
This goes back to the medication concerns again.  I can't stress enough how much they were concerned about her medications. 
Bottom line, she is transferring her care to the Cleveland Clinic.  Unfortunately, she can't get into the headache clinic until the end of November.  So,  for right now, we aren't burning any bridges because until she has her new doctor, we can't lose the one she has now. 
That's about it. 
Lizze really,  really liked the neurologist we met with, as did I.  He spent the better part of 2 hours with us. He treated Lizze with respect and should great concern for her suffering. 
The absolute best quote we took from this appointment was when we were discussing the medication concerns.  The neurologist said that no one likes to contradict what another doctor says or does however,  "even good doctors can do stupid things". 
While we still have a wait ahead of us,  Lizze feels good about the appointment and the information we were able to gain from this meeting.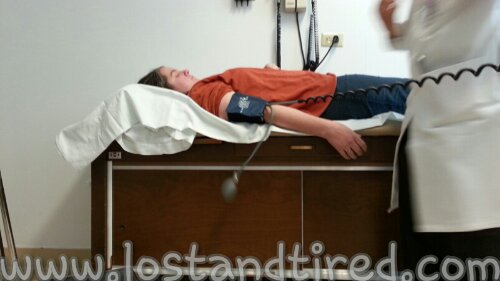 This was posted via WordPress for Android, courtesy of Samsung's Galaxy S III. Please forgive any typos. I do know how to spell but auto-correct hate me.
Please join our Autism Help Forums
Look for "Autism Help" app at the Google Play Store