Elliott has been on his #ADHD medications for exactly 4 days now.  Even at the low dose, he's benefiting from it.
Obviously, he's not really any less anxious but he's more relaxed, at least physically.
He's not bouncing off the walls until after the meds ware off, in the late afternoon.  He does seem to be happier and that feels good, not only for him but for me as his father.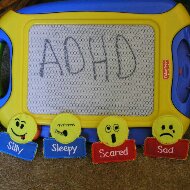 The next step is to discuss possibly adding a maintenance dose.  So instead of taking one dose, we split it up, morning and afternoon. 
We still have to attack the anxiety but progress is progress and I'm so incredibly thankful that this is helping him.  As I mentioned before, I try to avoid the names of the medications simply because of where we live. 
I'm willing get to discuss details in private if you have questions.  Simply send me a message and I'll get back to you.  🙂