About an hour ago, Gavin was officially, if not temporarily, moved out of the house. Lizze's mom arrived after work to pick him up.
As I mentioned earlier today, this is a very bittersweet moment for the Lost and Tried family.
On one hand,  our 12 year old son has moved in with his grandparents and that's difficult on all of us, especially Elliott.  On the other hand, we can all finally take a deep breath and relax for once.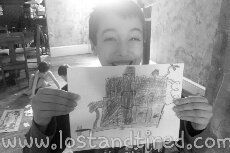 The boys are pretty upset right now and who can blame them. This is one of those things that will hopefully get easier with time. 
The goal here is to get the funding together that's needed for Gavin to be placed in residential treatment,  while Gavin's at his grandparents. 
The truth in the matter is that even they can only deal with so much and if Gavin gets too out of control, we'll have to step back into the picture. Right now we trying to minimize any and all contact so the boys can begin to feel safe again and we can hopefully stop Emmett's backwards slide. 
We are far more upset than Gavin is.  In fact, I don't think that Gavin even cares that he's leaving.  I mean he is going to his grandparents, so that's easier but still. 
I'm really feeling numb right now because while I love Gavin, he's destroying our family. This is absolutely necessary for the rest of us to survive.  Maybe if we didn't have the other boys to worry about, things might be different. 
We never planned for anything like this to happen. 
Personally, I always had hoped that we would make some type of breakthrough with him and we could all be one happy family. 
Unfortunately, at this point, it's not in the cards. 
Hopefully the future holds something different for Gavin and we can all be safely reunited once again.
Until such a time, life with be loved one day at a time.