It's officially been a week since Elliott began him #ADHD medication.  After speaking with his doctor, we have decided to add a second dose everyday.  This is known as a maintenance dose.
Basically, #ADHD medications don't last very long in the body and in Elliott's case, they ware off by about 3pm.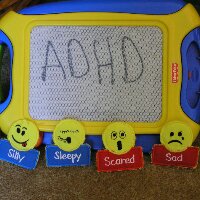 The way that is address is by adding an additional dose to be taken just prior to the first dose waring off.  Typically, this second or maintenance dose is half of the first dose. 
All this does is help to prolong the positive affects of the medication so that Elliott can derive the benefits for the rest of the day. 
So far,  everything is working really,  really well. 
He's much more relaxed and focused.  He seems happier and more at peace as well.
It really does seem that #ADHD was a large part of his struggles.  There is of course,  still a great deal of #anxiety but it does seem to be more manageable or him right now.
After consulting with his doctors,  we are going to let things ride out for another two weeks and reevaluate things with both the #ADHD and the #anxiety at that time. That really does seem like a solid plan and Lizze and I are comfortable with it.