As you know, Lizze and I returned to the Cleveland Clinic yesterday for an appointment with the sleep specialist. Lizze has been having significant issues with sleep over the years and we were not happy with the care she has received on the local level.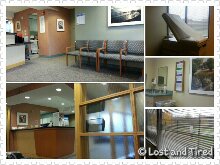 Her new doctor is awesome. 

She met with us for almost and hour and a half.  Lizze was asked more questions than she has ever been asked before and a very,  very detailed history was taken.
At this point, she doesn't know for sure what's going on but Lizze is definitely suffering from chronic sleep deprivation.
The doctor thinks that there are many factors contributing to this, among the worst of them is most likely stress.
In the coming weeks, Lizze will be having another sleep study done by the Cleveland Clinic. 
One of the other issues of concern is sleeping apnea.  The doctor is concerned that Lizze's airway is too narrow.  This allows for her airway to be easily occluded. That's could also be a very large component.
She also had bloodwork done to test her ferritin levels, as this could be contributing to her restless legs.
We've only just begun this journey to help Lizze finally find some restful sleep.  The doctor said we have a long road ahead of us. While that is discouraging, at least we are finally in the right place, with the right doctors and ever so slowly moving forward.