Gavin and I met with Dr. Reynolds this morning. Lizze wasn't feeling well and was resting up so she would be better when the kids got home from school. Sometimes we have to divide and conquer.
Today's appointment was basically supposed to be a followup, because we had discontinued the Lithium last month. Dr. Reynolds wanted to make sure everything was okay.
We met for quite awhile, and the discussion turned to something I hadn't planned on.

I asked the question, at what point do we revisit his Schizoaffective diagnosis and look at straight up Schizophrenia?
The reason I asked this question is because we haven't reevaluated him in a long time and his symptoms have changed as he's gotten older. Long story short, Gavin's official diagnosis has changed to Schizophrenia.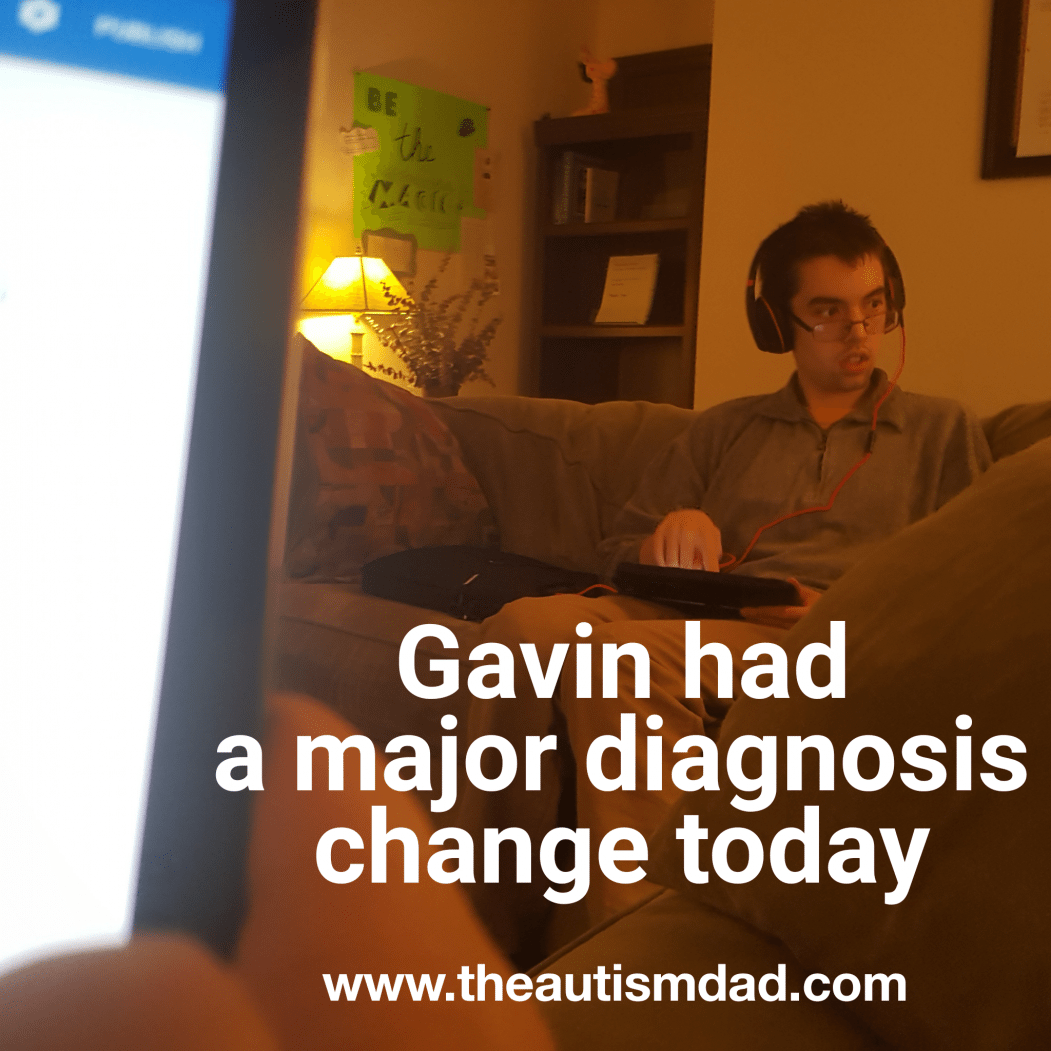 Schizoaffective Disorder is a blend of Bipolar and Schizophrenia. It's more mood disorder and less psychosis. Unfortunately, in Gavin's case, he's in a constant state of psychosis. This means that he's always out of touch with reality, and that changes things.
One of the things with psychiatric disorders is that a diagnosis can change over time, because as a person ages, new symptoms can emerge that help to clarify what's going on.
In Gavin's case, when he was younger, he had what appeared to be Bipolar disorder. Then he began experiencing bouts of psychosis as well. Over time the bouts of psychosis became more prominent, and today it's a constant.
That changes things and his diagnosis.
It's important to remember that this doesn't change who he is. The diagnosis has simply become more accurate, as new information helps us to better explain what his condition is.
I'm not a huge fan of labels, for labels sake. When it comes to things like this however, labels are important because they help identify and ensure the proper course of treatment.
At this point in time, Gavin doesn't display much in the way of paranoia. If that changes in the future, he may move to paranoid schizophrenia. Time will tell.
For now, I'm trying to digest this change. I know that nothing has really changed, but I was afraid this day would come. It means his condition is worsening in a way.
Every time I think my heart couldn't break anymore than it already has, life proves me wrong.