Lizze and Gavin are on their way home. For whatever reason, his infusion finished much faster than anticipated.
His HR has not dropped below the mid 130's since at least 8am this morning when we first became aware. 
He did top out today at almost 160 bpm.

I have been in contact with nurses with neurology at both Akron Children's Hospital and the Cleveland Clinic.  They are speaking with the respective doctors and will call us back when they know what to do.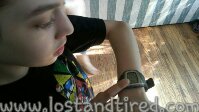 Another huge issue is that because Gavin isn't living at home right now, we have no first hand knowledge of what's going on with him. 
We don't know what for sure, how controlled everything has been for him. 
This isn't a knock on his grandparents in any way.  It's just that when dealing with something this serious, we need first hand knowledge, so we can accurately report symptoms to his doctors. 
This is possibly going to put a huge wrench in Operation Hope, at least our side of it anyway.
Lizze and I are going to meet with Dr. Patti tonight and figure out WTF we are supposed to do in a situation like this. 
The question at this point is whether or not we need to more him home and if so, how do we insure the wellbeing of everyone else involved?
Goddammit.  I really hate this entire situation.  It's like we're screwed either way and there's no better or safer solution.